The Brand Profile is where you can store your brand assets in one place. This makes it easy for your team to access your logos, brand fonts, colors, profiles and more, and helps ensure brand consistency across your marketing efforts.
Your Brand Profile is comprised of four pages:
Navigating to your Brand Profile
You can access your brand profile in one of two ways:
Selecting it from the list of apps on your main Marketing 360 Dashboard.

Clicking the dashboard drop down on your header and selecting

Brand Profile

.
Assets
Asset Page
The Assets page is where you can upload logos, choose colors, and select fonts to use in your brand's content.
Logos
Upload up to 5 logos on the Brand profile page. You can upload different versions of your logo including your main logo, icon, favicon and more.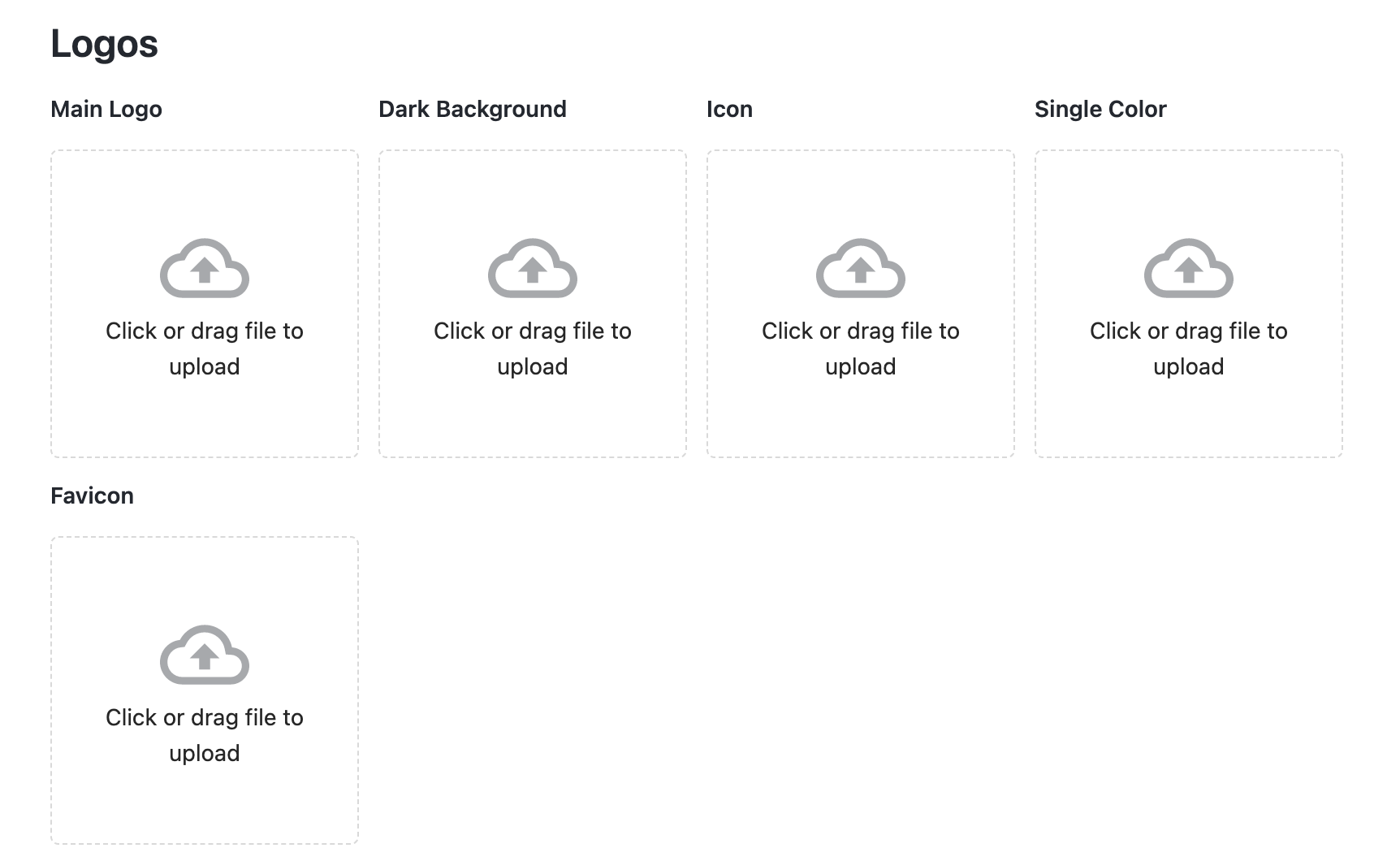 Colors
Click on the + box to select a color. You may search a color by its HEX code, or select a color you like from the color selector. When you have selected your desired color, click Save.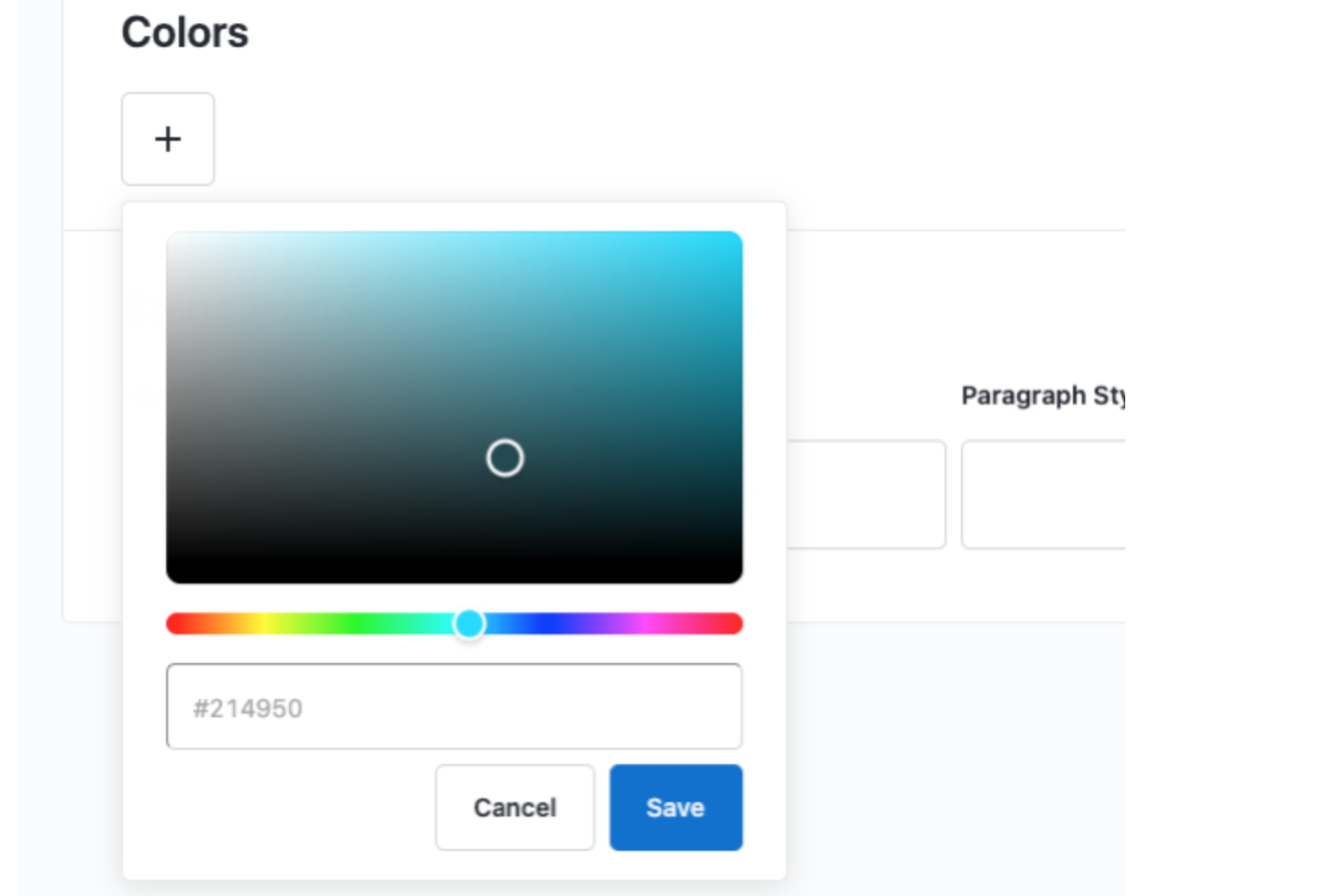 You may add multiple colors as needed by following the same process.
Brand Fonts
Next, select the fonts you want to use in your brand's content.
Starting with the Heading Style, select the font you would like to use. You may scroll to see a list of the available fonts, or search fonts by name. Once you have selected a font, another + sign will appear. Click on that + sign to choose whether you want your header font to be bold, or regular.


Follow the same process to select your sub-header style, and paragraph style.
Here is an example of a webpage with a header, sub header, and paragraph.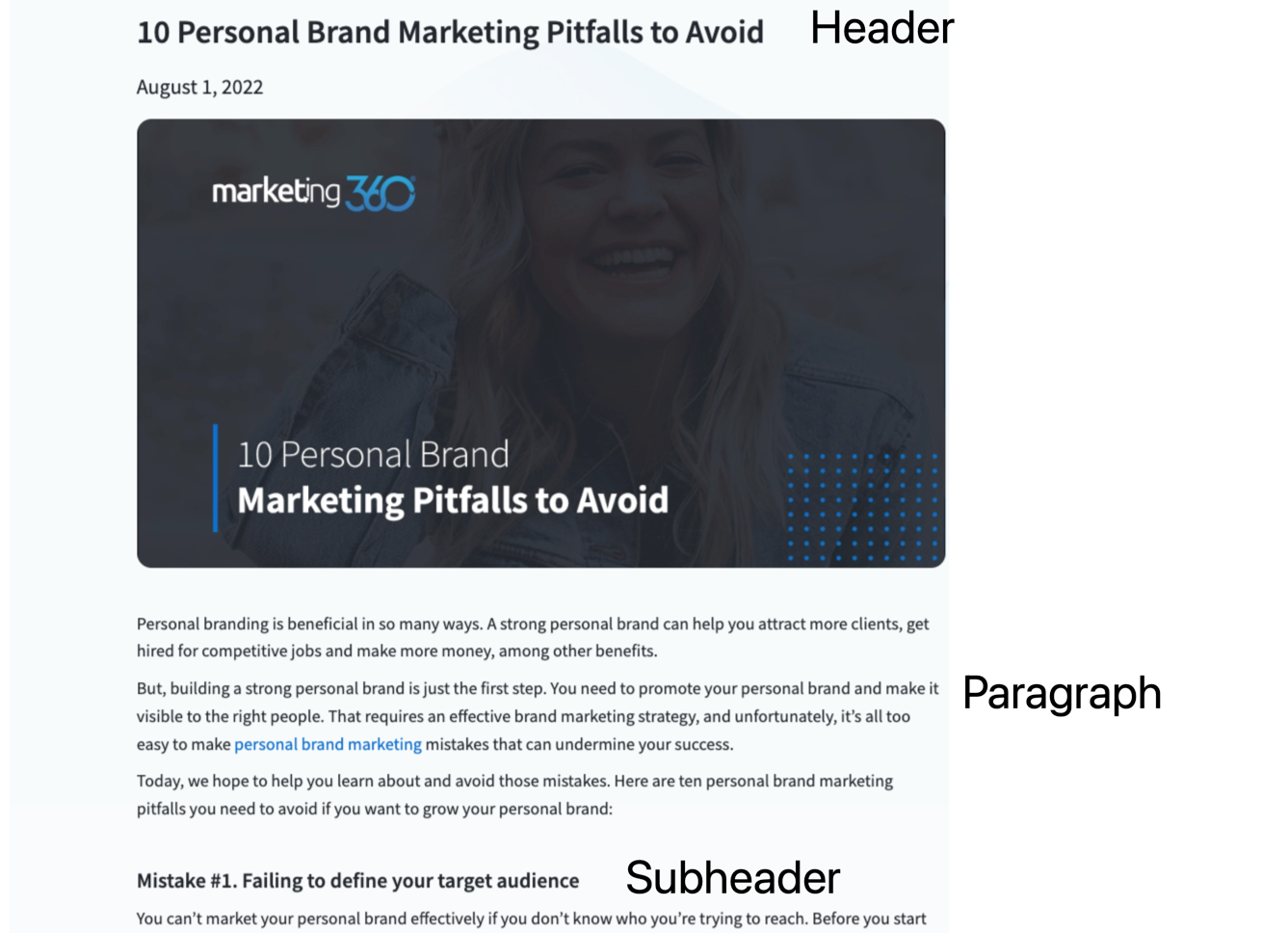 Need help developing your brand assets, or figuring out your brand's voice? Contact us today to learn more about how we can help you grow your brand.
Brand Profile Objectives Page
Brand Information
Enter your brand's "elevator pitch" in less than 450 characters. Your elevator pitch should describe what you do, what makes your company unique, what problems your company solves, and how you solve them.
Brand Goals
Select one or more of your key brand goals. You can choose one or more of the following goals:
Customer / Lead Acquisition

Purchases Online

Store Visits

Brand Awareness
Tagline
Enter your company's tagline or slogan.
Brand Voice
Enter adjectives that describe your brand's voice.Type in your adjectives, then click enter to save it as a tag. Some examples of brand voice include:
Positive

Inspiring

Strong

Sweet

Elegant

Intellectual

Bold

Authoritative

Informative

Witty

Clever

Playful
Year Established
Enter the year your company was established.
As you enter in your information, make sure to click "Save Changes" to save as you go. To remove your changes, click Cancel.
Platform Profiles
The Platform profiles page is where you can keep track of the profiles you use for your brand.
To add a new profile, click the +Profile button.




Using the dropdown, select the Profile you wish to save.

Enter in that profile's URL on the Platform URL box.

Click Save to save your changes.



Products & Services
The Products & Services page is where you can store key details about what your business offers.
To Add a new Product or Service, click the + Product / Service button.

Enter the product or service title, and a description.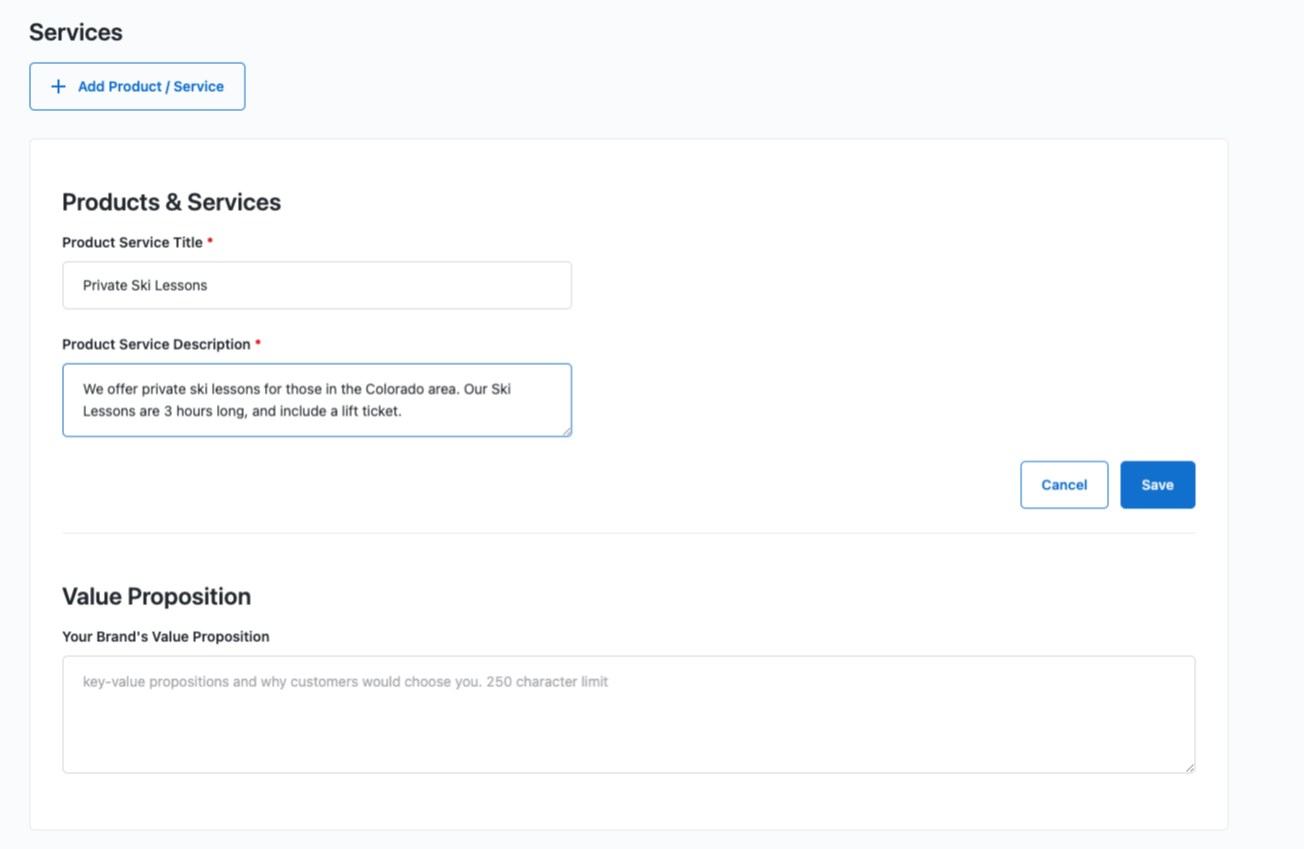 To save your changes, click Save.
Use the + Product / Service button to continue adding products and services to your Brand Profile.
You may also enter your Key Value Proposition (KVP) on this page. Your KVP should include what makes you different from your competitors, and any aspects of your business that makes you unique!
Target Market
The Target Market page of your Brand Profile is where you can store key details about your business's target market. This page is composed of three sections: Target Market Regions, Target Customers and Competitors.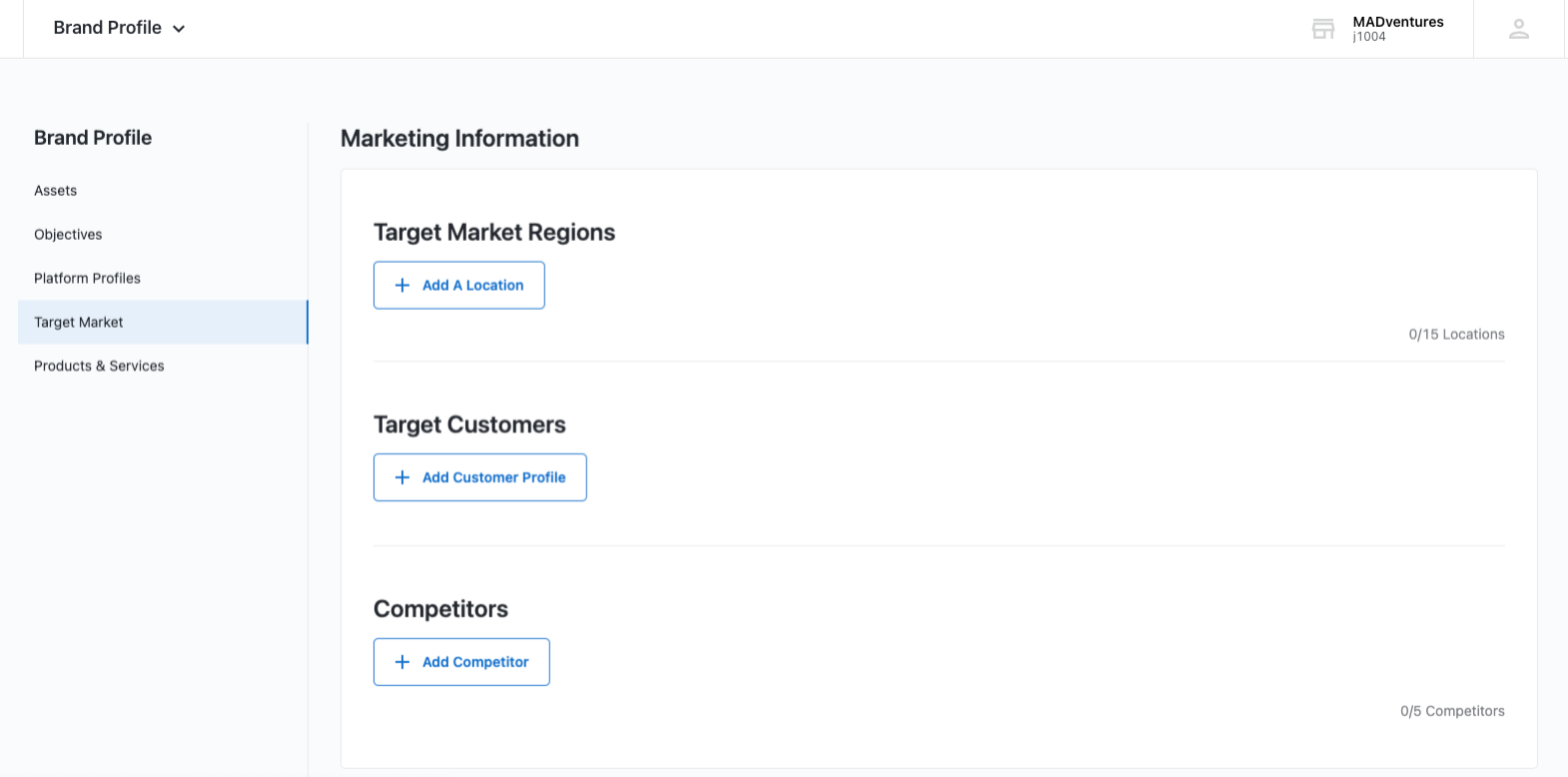 Target Market Regions
Click + Add a Location to add your first Target Market Region.
Enter your Location Set Name, then a Zip, City, or State.
Then, select the Radius from the Location that you would like to target.
For example, let's say you own a Winter Sports business, and want to create a target market for your ski lessons that you offer in Keystone, Colorado. You can create a Target Market named "Ski Lessons in Keystone", enter a zip code, and set your radius to 20 miles to account for those interested in Ski lessons near that area. When you have entered your Target Market Region information, click Save.

You may add up to 15 Regions.
Target Customers
Here is where you can save demographic information about your target customers.
Click on + Add Customer Profile.
Enter your Profile Name. In this example, let's make a Customer Profile for those interested in Beginner Ski Lessons, so we'll name this profile "Beginner Ski Lessons."
Then, enter your Demographic Age. You may select as many age ranges as you like.
Then, you can select your target gender.
When you have finished, click Save.

Competitors
Here is where you can list your top competitors of your business.
Click on + Add Competitor.
Enter your Competitor's information like their business name, social links, and a brief description.
When you have finished, click Save.

You may add up to 5 competitors.