You can set a minimum or maximum purchase quantity for your store's products by downloading the Purchase Quantity Limits App.


Download the Purchase Quantity Limits App

You can find the Purchase Quantity Limits App by selecting App > App Market on the left-hand sidebar of your Shop dashboard.
Purchase the app using the card you have on file under My Profile > App Market Billing. If you have not entered a payment method here, you will be prompted to do so before you are able to download the app.
You may manage your app subscriptions at any time by visiting Apps > My Apps. Here is where you can uninstall apps, get help, or report a concern.
Set purchase quantity limits
Visit Catalog > Purchase Quantity Limits.

You'll first see an option to Enable or Disable Purchase Quantity Limits (this will default to

Enabled).




Enter a Minimum and Maximum Order Quantity for your products. The default Minimum Order Quantity for all your products will be set to 1, and the Maximum will be set to "No Limits".
You can quickly find a product using the search bar to search based on product name or SKU.

How purchase quantity limits work on your store
When enabled, the Purchase Quantity Limits app will automatically show minimum and maximum purchase notifications on your item's pages, next to the Quantity field:
An example of a "minimum" quantity: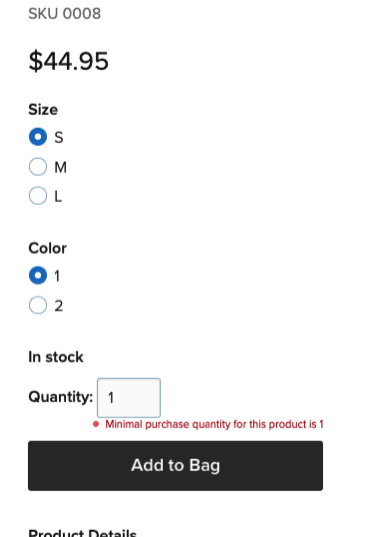 Users will be unable to use the toggle bar to increase the Quantity to more than the set maximum amount.
If a shopper tries to type in a quantity above your quantity limit, they will see this notification, and the order quantity will divert back to the maximum amount once they click off the Quantity field: