If one or more of your posts fail to publish, then you will see a "Failed" tag on the post in the Social Calendar. In addition, any user listed as an "Owner" or "Social Approver" will receive an automated Failed Post Notification in the Marketing 360® app, as well as via email.
Why Didn't My Post Publish?
More than likely, something has caused an issue with the account connection(s) in your Social app. Account connections can fail for a number of reasons. The most common reasons are:
You changed the password on one of your social media accounts, which causes Marketing 360® to lose access.

Your account connection has expired. This most often occurs with LinkedIn, as their tokens or connections expire every 3 months.

You did not grant full permissions to the Marketing 360® app during your account connection.

You or another party with logins to your pages may have removed access to the app from within your social account either by accident or on purpose. Facebook, for example, allows users to remove access from within the page settings, causing the apps to lose permissions required for both posting and Insights.
The connection issues listed above are usually the reason why Data stops propagating in the Social Report showing your insights data.
Other Reasons Posts May Not Publish:
You scheduled the post too late. The post may have been pending and you just approved it, or you may have taken too long to schedule the post and the publishing time you request has passed already.

There are uncommon or unrecognized characters and formatting in your post messages. Some platforms have strict requirements for Images and Post Message contents.
Instagram, for example, requires images to be .jpg format, less than 2mb in files size, and square or close to square no larger than 1440 px wide.

Other Platforms, like Google My Business, have very strict message requirements. If you are copying and pasting your posts from a spreadsheet, for example, you may inadvertently paste a bad URL format or line break into your post. This will cause the post to fail.

How to Resolve Failed Post Issues
Step 1: Check Your Account Connections
Open the Social app in Marketing 360® and select the Settings tab. Check to see if there is an account connection error.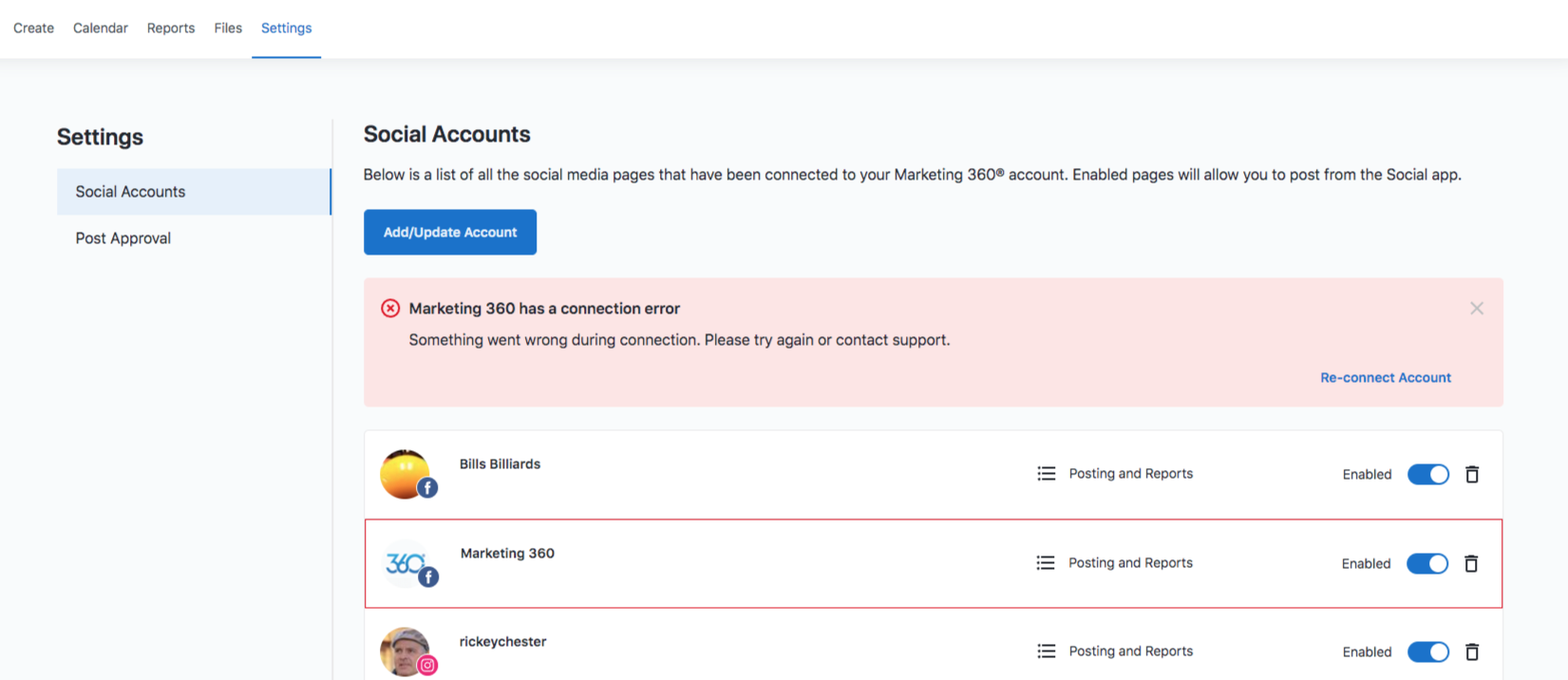 If there is an error message, then click Re-connect Account to begin the authorization process. If not, then skip to Step 2: Reschedule Your Posts below.
Note: Updating connections will not disrupt the social posts that are scheduled, but failed posts will need to be rescheduled to clear the publishing error and publish them to your profile(s).
Data in reports will refresh within 24 - 48 hours of the refreshed connection.
Step 2: Reschedule Your Posts
Once you have refreshed your social accounts, you can reschedule any posts that have failed and are held within your scheduled posts queue.
Within your Social dashboard, select the Calendar tab. You can then filter posts by the Failed status filter on any view to find affected posts. Click on one of the days containing failed posts.
The examples below show the Failed filter in both the "Month" and "Day" views, respectively.

Once on the "Day" view, click on the "pencil" icon on the top-right corner to open the post editor modal. Set the date/time for a new time in the future, or use the Today and Now options in each field for immediate publishing.
Save the changes on the post.

If you've set the new publishing time to the current date, click the Today button above the calendar to quickly navigate to the post, or select the new day from the Date drop down menu.


Click the Send for Approval or Schedule button (based on your permissions) to update and set your post for publishing. This should clear the error message(s).


Once your post has been rescheduled successfully, it will be tagged as "Scheduled" in the Calendar.