Why do we highly recommend enabling reCAPTCHA on your WooCommerce checkout?
reCAPTCHA was developed as a way to make sure the person submitting a transaction on your website is a human, and not a bot. We recommend it because it helps prevent fraudulent credit card charges on your site, as well as to prevent processing fees due to these charges.
More information on reCAPTCHA can be found HERE.
Over the past year, we have seen a significant increase in fraudulent transactions being placed on websites. Often, it is a script or "bot" that crawls the site and tries to transact several times using different stolen credit card numbers. With most payment providers, there is a processing fee for each transaction, which can quickly get out of hand. Ultimately, the business owner is on the hook for the fees produced by these false transactions ,and those fees can quickly run into the thousands of dollars.
Below are the instructions to help keep you and your shoppers safe by enabling reCAPTCHA.
Step 1: Obtain reCAPTCHA Keys
You can obtain your reCAPTCHA Keys by visiting this link: Set up reCAPTCHA. You will need a Gmail or Google account to sign in. If you do not have one, then you can use the link above to set one up.
Fill out the appropriate fields:
Label: This will be the name for your reCAPTCHA form. Ideally, you should name it based on where you will be placing the widget (i.e. on your checkout page).
Domain: Add your domain name WITHOUT the www. in front.
reCAPTCHA Type: Select V3
Accept the reCAPTCHA Terms of Service
Select Send alerts to owners
Click Submit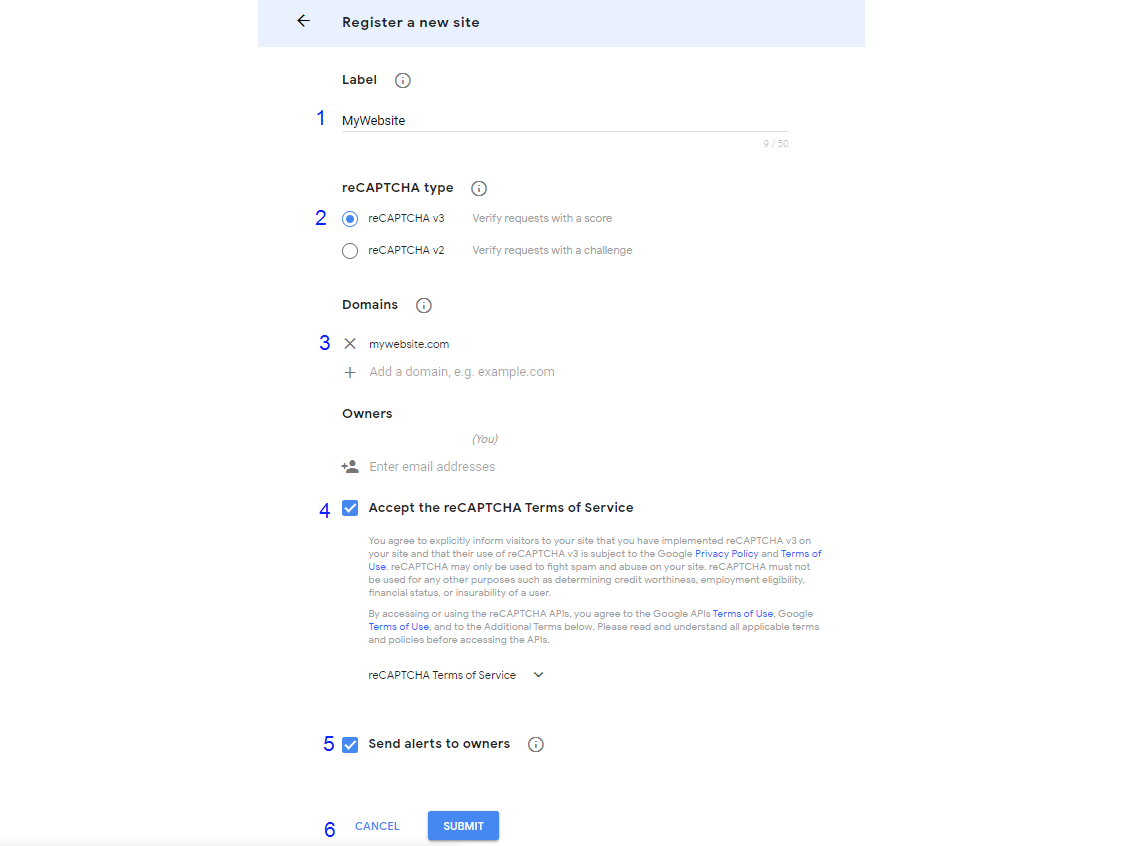 Copy and Save the Site Key and Secret Key.
Step 2: Purchase the reCAPTCHA for WooCommerce Plugin
Follow this link to purchase the reCAPTCHA for WooCommerce Plugin.
Step 3: Configure Plugin
You can follow the instructions to set up the plugin on your website by visiting this link: Set up reCAPTCHA for WooCommerce on Your Website.
Please note: It is recommended that you enable the WooCommerce Pay for Order Actions for the plugin settings.