The Customers dashboard displays the list of customers that have previously booked a service with your business. New customers are added as bookings are created for them.
Use the search bar in the top-left corner of the dashboard to search for customer details. You can search by entering information that is present in the Name, Email or Phone columns.

You have a few methods of interacting with the customers in this list:
Clicking on the customer's name will open their profile (see more information below).
Clicking an email address will up your email provider with a pre-populated email addressed to the customer.

Clicking on a phone number will open a :tel: link to call the customer, if there is a phone app connected to your device.

Customer profile
You can click on a Customer's name to view their profile. On the left-hand side of the profile is the Customer's contact information. You can edit the information on file, as well change other details pulled from the CRM, such as their Contact Type or Status.
On the right-hand side of the page are four tabs that you can select to view more information on the customers' booking behavior; Overview, History, and Services.
Overview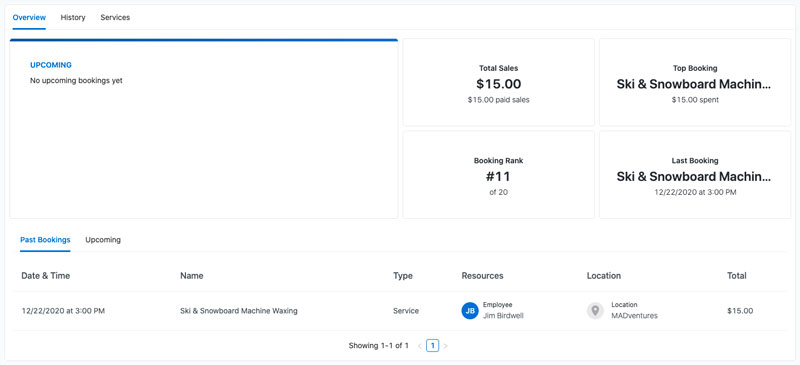 Browse each module on the Overview page to learn more:
Upcoming: All upcoming bookings for this customer.
Total Sales: The total dollar amount of all the services this customer has booked, whether they have completed the services or not.
Top Booking: The most expensive booking item the customer has purchased.
Booking Rank: The "ranking" (dollar amount spent) of this customer compared to all customers.
Last Booking: The date of their most recent booking.
Past Bookings: Lists all of this customer's previous bookings. The Resources tab shows specific selections, such as a designated employee.
Upcoming: Lists all bookings for services that have yet to occur. The Resources tab shows specific selections, such as a designated employee, etc.
History

The History tab shows a log of all bookings for the customer.
Services

The Services tab shows a list of all of the Past Bookings and Upcoming Bookings for Services that you offer.