The Plans page in the Marketing 360® Payments app allows you to create pricing plans with custom payment schedules for your customers.
Start by navigating to the Payments app, then selecting the Subscriptions tab at the top of the dashboard.
The Subscriptions dashboard displays all the existing payment plans you've created. Three tabs are displayed at the top of the plans list. This allows you to filter plans by their status: All Plans, Active, or Inactive. As your plan list grows, save time by searching plans by their name, description, or the date they were created using the search box near the top right corner of the page.
Creating a New Plan

1. Click the blue + Add New Plan button. This will display a window where you configure the plan name, description, and pricing options.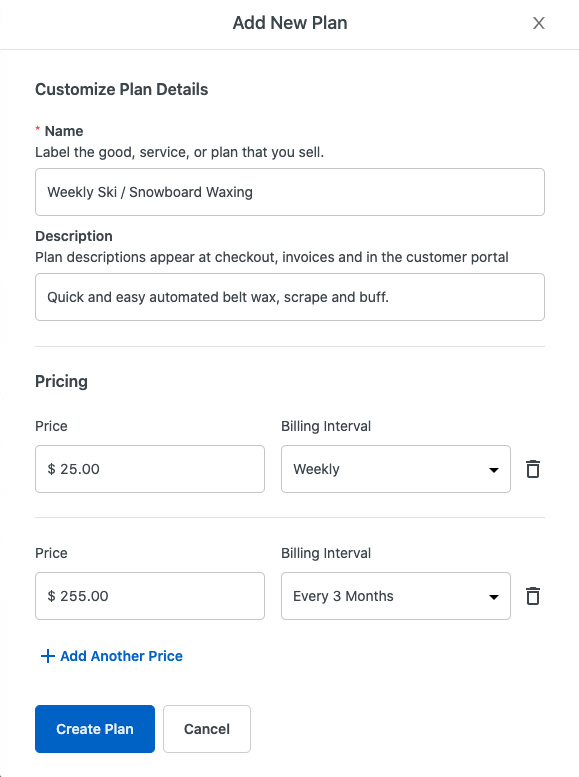 2. In the window that displays, enter the product's details, then click Create Product.
| Field | Description |
| --- | --- |
| Name | The name of the plan, good, or service. |
| Description | Plan descriptions appear to the customer. |
| Price and Billing Interval | The price of the plan and the interval it will be billed at. |
| + Add Another Price (optional) | The option to include more than one price option for the customer. If more than one option is entered, the price option is selected when creating the subscription. |
In the example shown above, two pricing options are entered. This is a great option to offer discounts to customers that want to pay annually instead of monthly.
How to Bill Your Customers for a Payment Plan
Once you've created the plan, head on over to the Subscriptions page to add it to a subscription. There, you can create custom subscriptions that can include one or multiple plans and assign the subscription to a customer. Need some help creating your subscription? Click here to read the help article!