If you're having issues with the campaigns you send being marked as spam by recipients, you can encourage your subscribers to add you to an 'allow list' with a filter, or just simply add you to their contact list. Using email filters is much more effective, but it can be a little more time-consuming. Either can help your campaigns end up in inboxes, not spam folders. Check out details on both options below, then read through some helpful options for encouraging your customers to take action.
Option 1: Create a Filter for the Address You Send Campaigns From
Creating email filters can be beneficial for your email deliverability. When your recipients create a filter for your address, it will be far more likely to deliver your campaigns to their Inbox instead of spam.
Filtering an Email Address in Gmail
1. Sign in to your Gmail account and click on the "gear" icon at the top-right corner of your inbox. This will open a drop-down menu, where you will select Settings.
2. Once in your Settings panel, select Filters and Blocked Addresses at the top of the screen.
3. Click Create a new filter.
4. In the text box next to From, copy and paste your email address.
5. Click Create filter.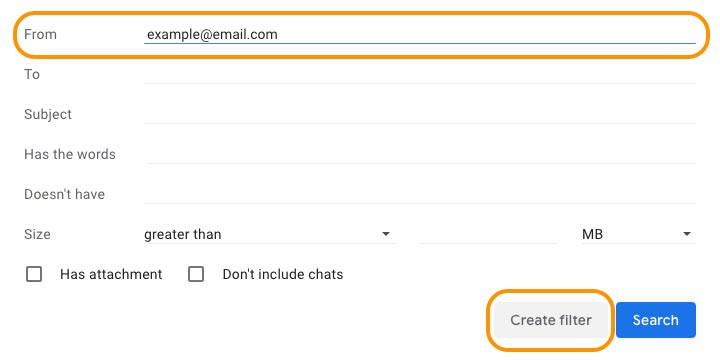 5. On the next screen, check the box labeled Never send it to Spam and click Create filter to save.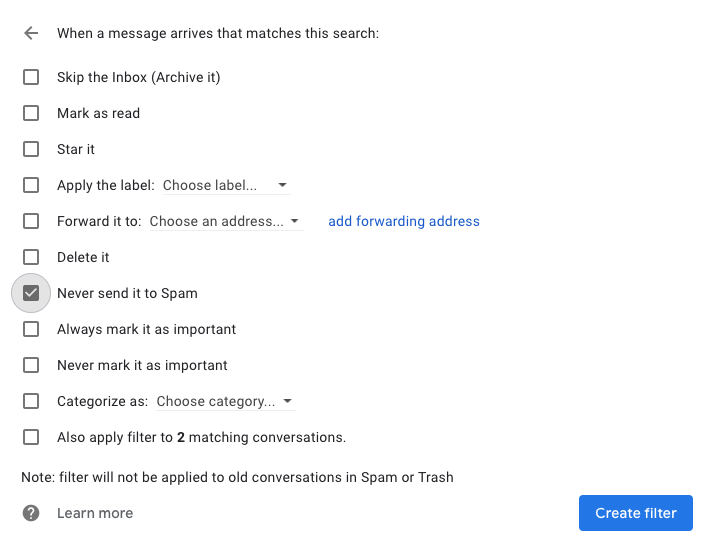 Filtering an Email Address with Yahoo! Mail, Outlook, and AOL, and more
You can create filters for specific email addresses in other email platforms by creating filters and managing spam settings.
Option 2: Add the Address You Send Campaigns From to Their Contact List
While not quite as effective as custom-built filters, simply adding the address to their email contacts can also reduce spam. It's not quite as complex as building a custom filter for the sender's address.
Either option can help your email campaigns land in your customers' inboxes with less risk of being marked as spam.
How Do I Ask my Customers to Make a Filter for my Email Address?
One easy way to ask is to add a bit of text to the 'thank you page' that your recipients are re-directed to after submitting your form.
You could also include this content in the footer of each email campaign. Marketing 360® makes this simple with email templates. Just add the reminder to the footer of your templates and they'll be included in every campaign!
You can add a reminder that says something like:
"Thanks for your submission! To ensure our emails land in your inbox, feel free to add email@example.com to your email client's contact list / safe sender list. Thank you!"
Think Your Customers Will Need Some Help?
Not everyone is an email pro. If you think your customers will need some help, feel free to send them a link to this Help Article on How to Create a Filter for Our Email Address.
Need More Help?
If you continue to have issues with campaign delivery, feel free to reach out to our support team by submitting a ticket from our knowledge base here.