Marketing 360® provides useful reporting data in the Content, Ads, and Intelligence apps to help you measure website analytics, ad performance, search engine rankings, and more. This is accomplished by connecting your Marketing 360® account to platforms like Google Adwords, Bing Ads, Facebook Ads, etc.
You can manage what apps you have connected to Marketing 360® on the Integrations page within your business settings. This page will show what platforms are available to be connected to each app and notify you if any of your connections have errors.
To navigate to the Integrations page, select the Settings icon from the App Bar dropdown menu at the top-left corner of your dashboard, then select Integrations on the left-hand sidebar.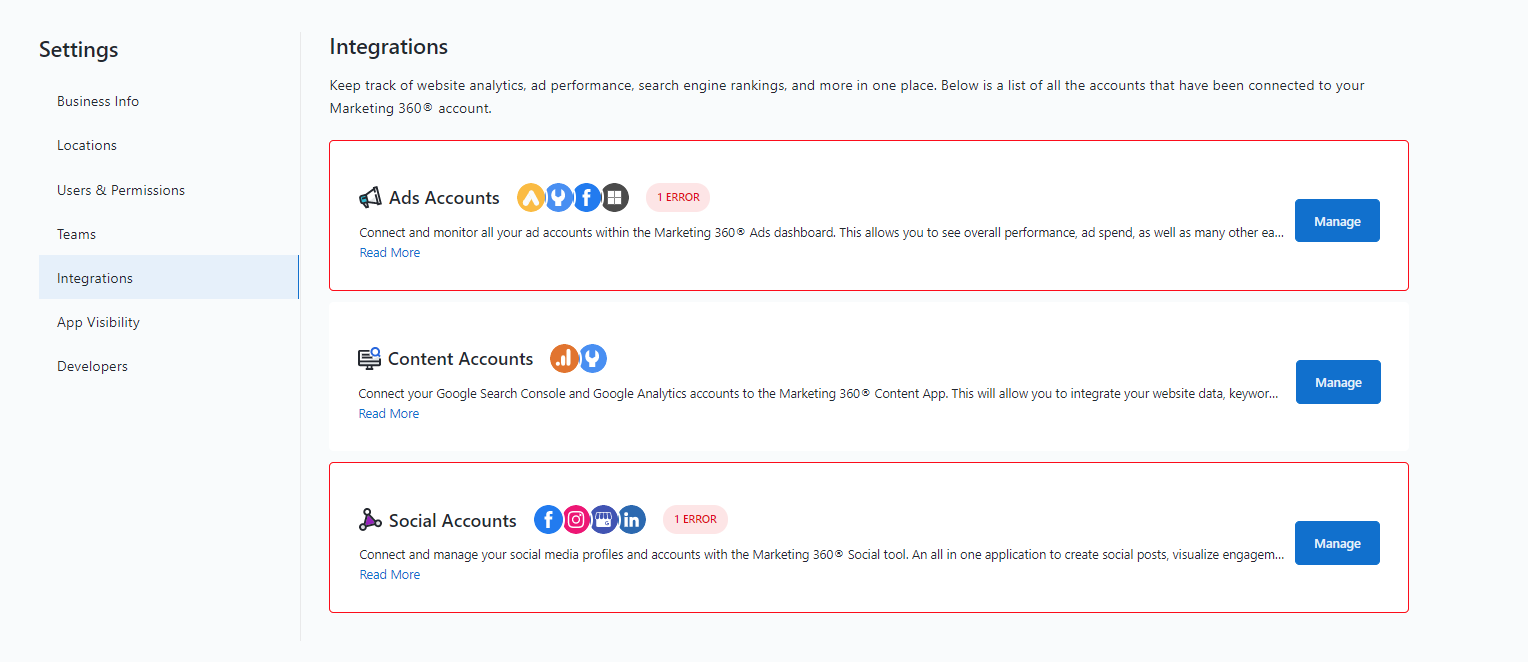 Clicking Manage will take you to the relevant app. For example, the Manage button next to Social accounts will take you to the Social Settings page where you can manage your connected accounts.
Does It Matter Which Accounts I Connect To First?
If you're looking to use all three of the Marketing 360® reporting apps (Ads, Content, and Intelligence) we suggest connecting your external accounts in the following order.
Before you make your connections, its best to make sure you can log in to any external account you plan to connect. That'll make the connection process much smoother. Click the links above to our data providers. If you're unable to login, better hunt down that password now! If you need a teammate or co-worker to securely send you a password, try using Madpush.
How To Connect External Accounts
1. Navigate to your Settings dashboard by clicking on the App Bar on the top-left corner of the page and selecting Settings from the dropdown menu.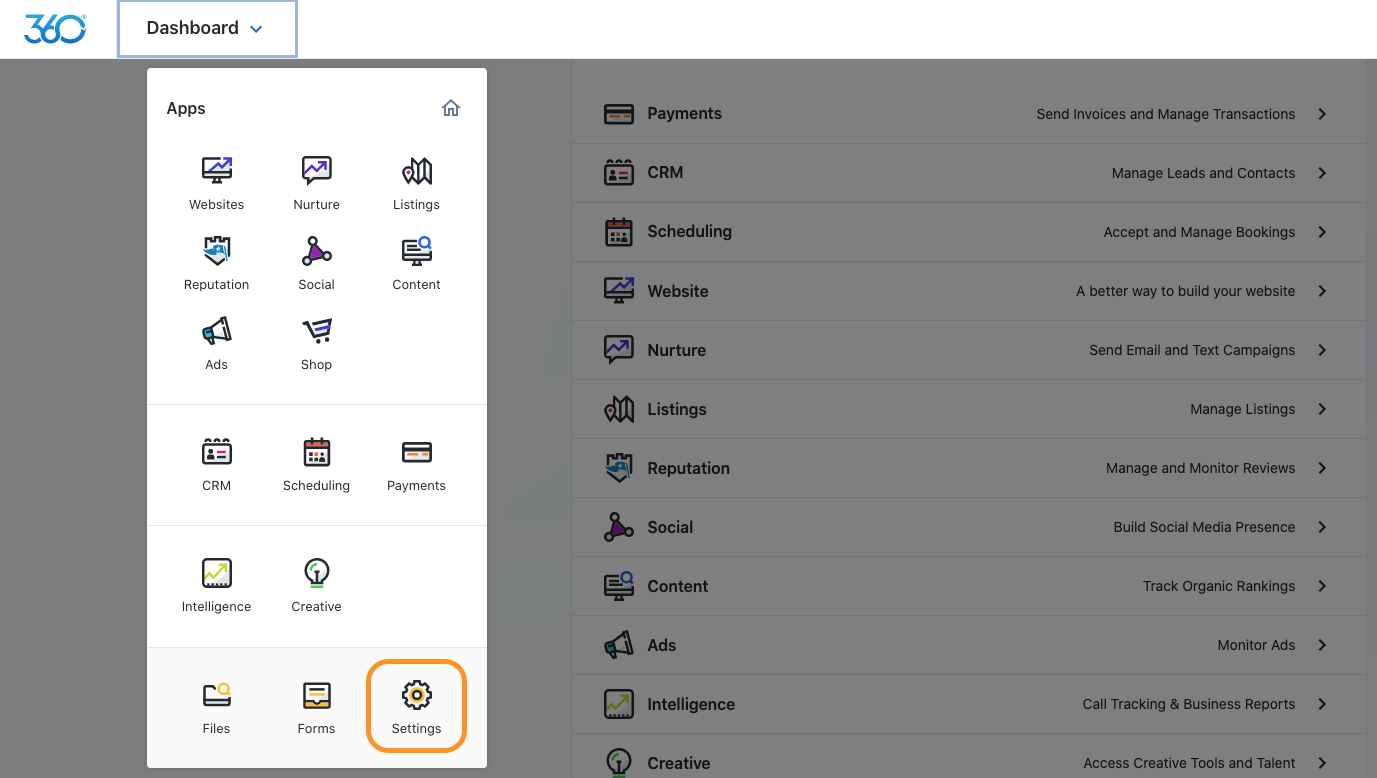 2. On the Settings dashboard, select Integrations on the left-hand sidebar.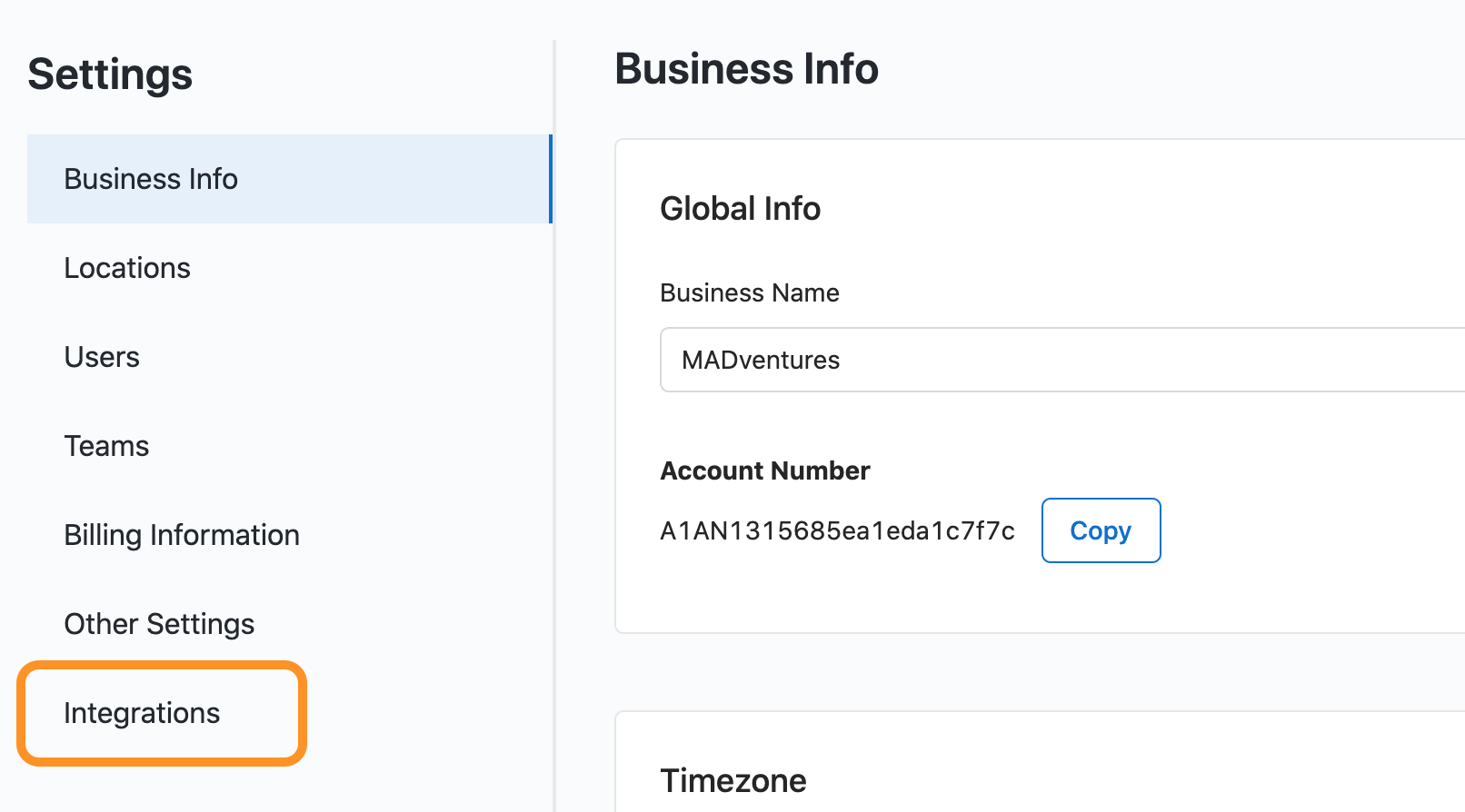 3. Click the blue Add Account button at the top of the page.

4. In the pop-up window that displays, select the platform you'd like to connect.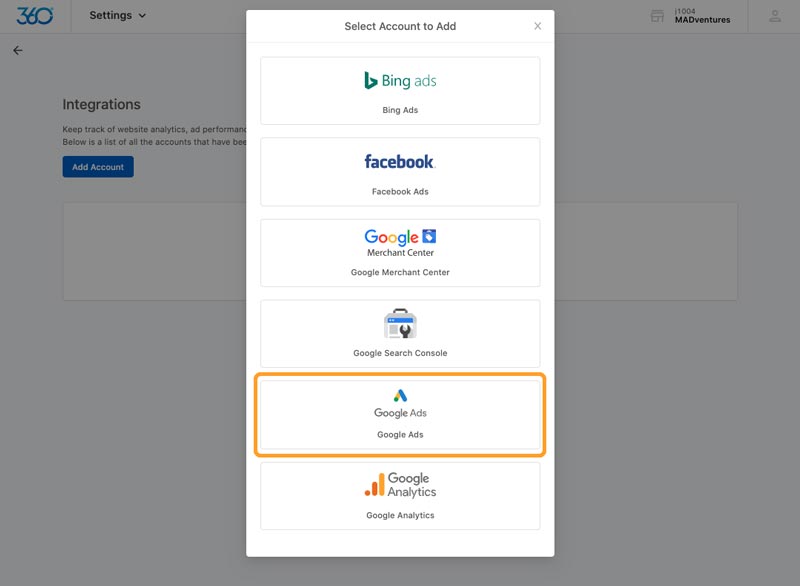 5. Select your account, then enter your password if you didn't already.
6. The following screen will display all the permissions being requested by Marketing 360. To proceed, leave them all toggled on, and click Allow. This will re-direct you back to Marketing 360.
When requesting permissions in the external account, Marketing 360 will only request the minimum permissions needed to provide reporting data. If you'd like to learn more about each permission being requested, click the info icon to the right.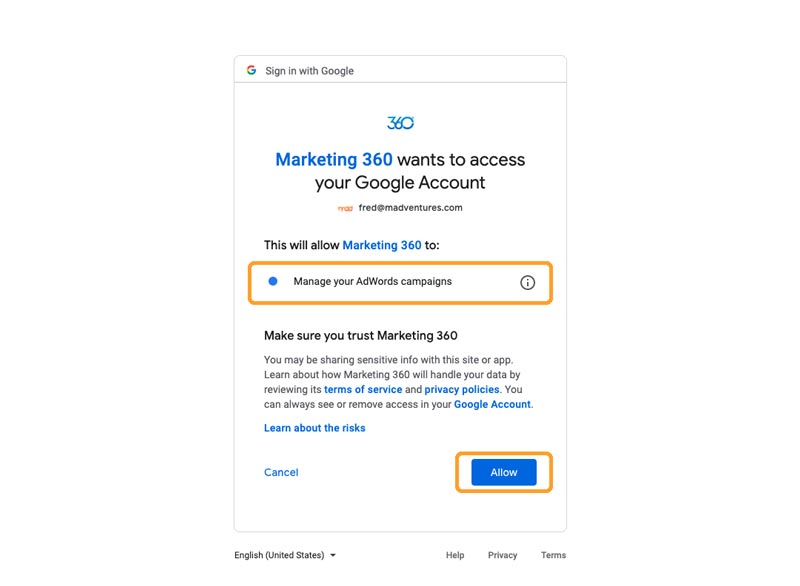 7. If you have access to multiple accounts on the selected platform, they'll all be displayed here. Select the appropriate account, then click Connect Account.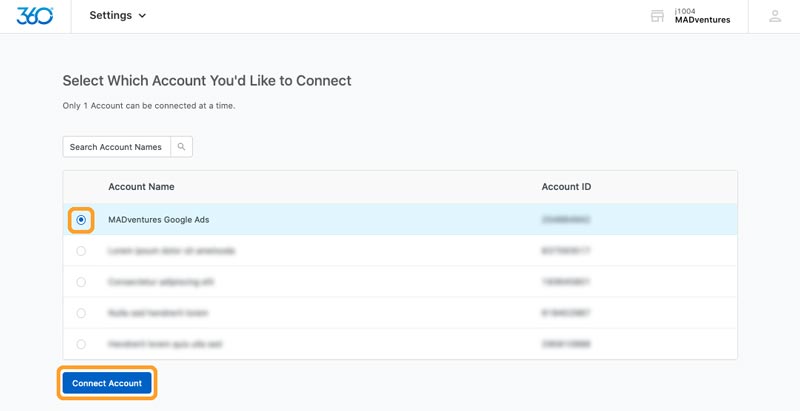 Congrats! You're Ready for Reporting!
Navigate on over to the Ads, Content, or Intelligence apps to start seeing valuable reporting data that can help you make more informed, data-based decisions about how and where you market your business.
I Connected the Wrong Account! What Now?
There is currently no option to remove connected accounts. If you mistakenly connected an incorrect account, please submit a ticket on our Knowledge Base and our team will help you remove it. Please note, this will also remove the historical data from the Ads, Content, and Intelligence apps.