The Source report in the Intelligence app tracks website traffic by its Origin (think search engines or specific domains) and Medium (think categories like organic search, cost-per-click paid search, or referrals). This allows you to get a wider view of the most effective ways to market your business.
Please keep in mind that you must have Google Analytics connected and set up on your account with the correct Analytics ID's for this feature to work. If you have an account with managed services, reach out to your dedicated team for assistance. If you have an account without managed services, you'll need to use the Account Integration feature to connect Marketing 360 to Google Analytics.
Filtering The Source Report By Date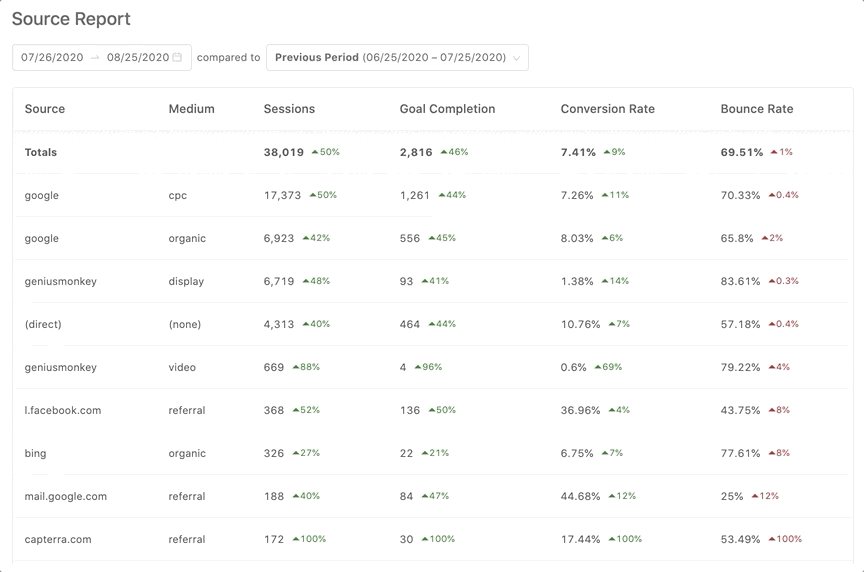 Use the left date selector near the top of the page to select a specific time period, then select a comparison period using the right date selector to compare that data with another time period.
Understanding the Source Report Panel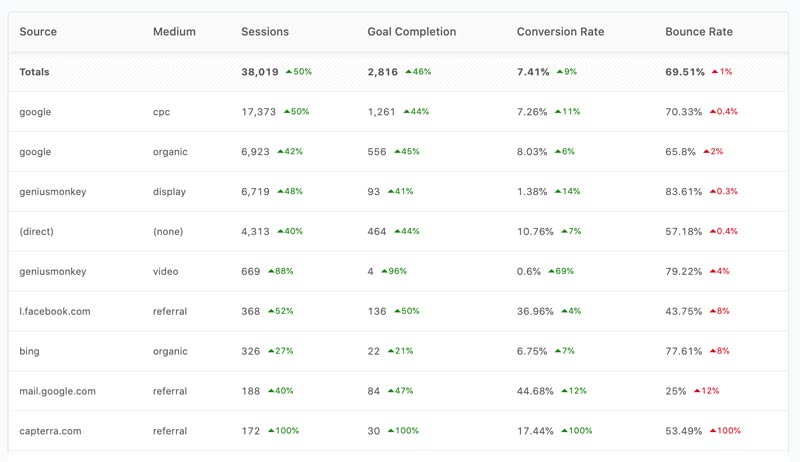 | Column | Definition |
| --- | --- |
| Source | The website or channel responsible for sending the traffic to your website |
| Medium | The category that the source falls into (organic search, cost-per-click paid search, or referrals) |
| Sessions | The number of unique visits to your website that were driven by that source |
| Goal Completion | The number of times that the sales funnel was completed on your site after a user came from the source. (phone calls, form submissions, purchases, etc) |
| Conversion Rate | The percentage of all the sessions that resulted in a conversion. |
| Bounce Rate | The percentage of sessions where the user left the site before making a conversion |
If you'd like to learn more about goals in Google Analytics, click here to read their support documentation.
Why Traffic Sources Matter
Viewing the traffic to your website by the source and medium allows you to dig into not only which websites are sending the most traffic, but which types as well. By reviewing the Medium column, you can see not only the categories that are working well, but also those where you've got room for improvement. This will help paint the big picture and provide guidance on which types of marketing to further invest in.