The Traffic by Device page of insights in Site Analytics can be analyzed further to traffic by the type of Device the customer is using to view your website. This data reports the type of device that website visitors are using to experience your website, which includes desktop, mobile or tablet. It comes directly from Google Analytics.
Please keep in mind that you must have Google Analytics connected and set up on your account with the correct Analytics ID's for this feature to work. If you have an account with managed services, reach out to your dedicated team for assistance. If you have an account without managed services, you'll need to use the Account Integration feature to connect Marketing 360 to Google Analytics.
Selecting Comparison Periods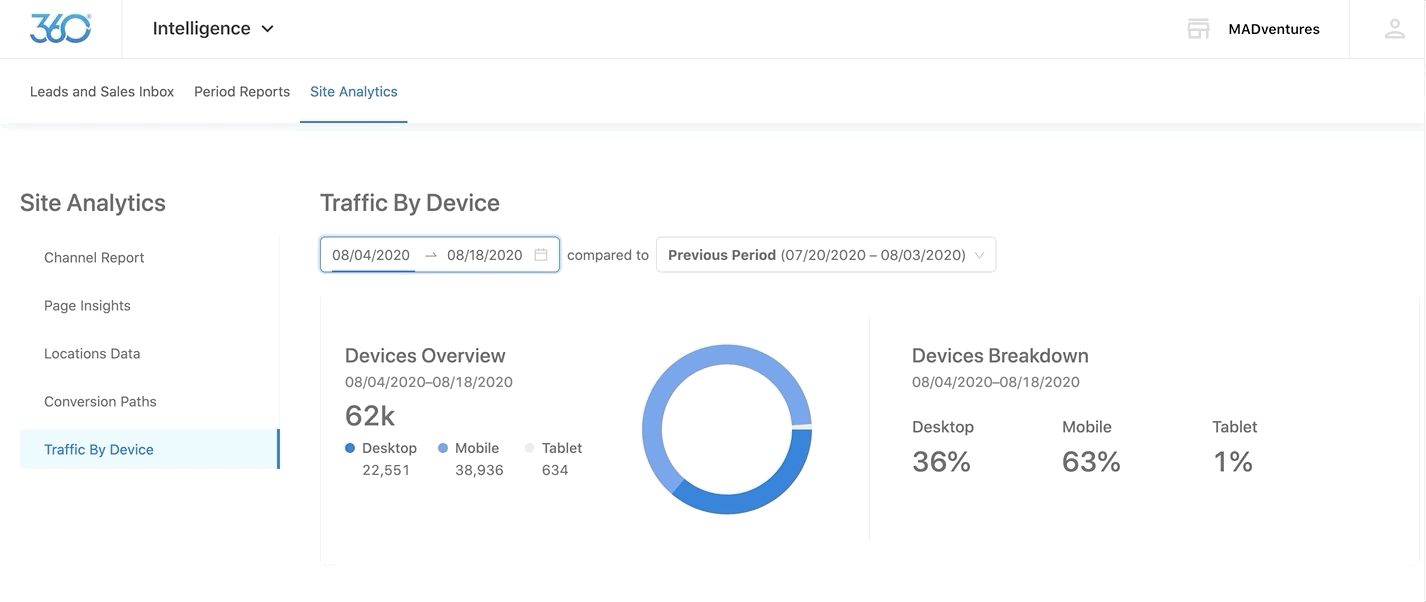 First, select a date range to review using the selectors at the top of the page. Select a current period using the date selector on the left, then select a comparison period using the date selector on the right. You can use one of the pre-selected date ranges like 'last 30 days' or select specific dates if needed. The comparison period will default to the 'same period' but you can also customize this if you need to make specific comparisons.
Devices Overview and Breakdown

The graph in Devices Overview and Breakdown panels show a visual representation of the number of visitors to your site based on which device they're using: desktop, mobile or tablet. This panel doesn't show any comparison data, so what you see is for the selected time period.
The Overview panel shows the total number of visitors to your site by numerical count, while the Breakdown panel shows the data as a percentage.
Detailed Insight per Device

You can use this table of data to gain more insight about the way your users interact with the website when using different devices. It's helpful to know the device data because it helps you make better informed design and conversion decisions.
The green or red numbers and the up or down arrows reflect the change in data based on the comparison period previously selected. Here, you can get a quick visual reference about how the data changes over time.


| Column | Description |
| --- | --- |
| Devices | Refers to which type of technology the user is on when they're interacting with your website, including desktop, mobile or tablet. |
| Visits | A visit is when a user accesses your website, no matter how they find it. |
| Goal Completion | Displays which devices users are on when they complete your goals. Goal completion data refers to the specific goals you may have set in Google Analytics. |
| Conversion Rate | Percentage of users who are completing the sales funnel on your website to become leads or sales. The total row for the conversion rate data is an average of the conversion rate percentages per device. |
| Bounce Rate | Percentage of users who are leaving your website without interacting. The total row for the bounce rate data is an average of the bounce rate percentages per device. |
| Avg. Time on Site | Tracks the total time that each visitor spends on your website and then averages the data from all users. The total row for the avg. time on site data is the sum of the average time for all device types. |