(This is an advanced task and should be handled by someone with knowledge of domain and DNS settings. If you would like assistance with this we can handle it for a one time fee.)
By default, all emails sent from your Woo360® website are sent from the email address mailer.madwire.net. Sometimes, these emails may be detected as "spam" by some email providers. To prevent your emails from being sent to spam, you can set up your own Mailgun account so that all of your emails are sent from an email address that matches your domain name.
How to Set up a Personal Mailgun Account
1. Create a Mailgun account - https://www.mailgun.com
Please view

plans and pricing

to ensure you are purchasing the volume needed for your store. (In order to setup your actual domain to send, credit card info must be entered into Mailgun)
2. Activate your account - Check your inbox for a "Please verify your Mailgun account" email, click the link, follow the instructions, and you're done!
3. Set up your custom domain in Mailgun and verify your DNS records.
4. Send credentials and sender information.
5. Log in to your Wordpress/Woo360® site and update the Mailgun plugin information:
Mailgun setting are found under: Settings > Mailgun
Update the following items:

Mailgun Domain Name (the subdomain you setup)
API Key - (provided by Mailgun)
From Address (email address it appears to be sending from)
From Name

(who it appears to be from)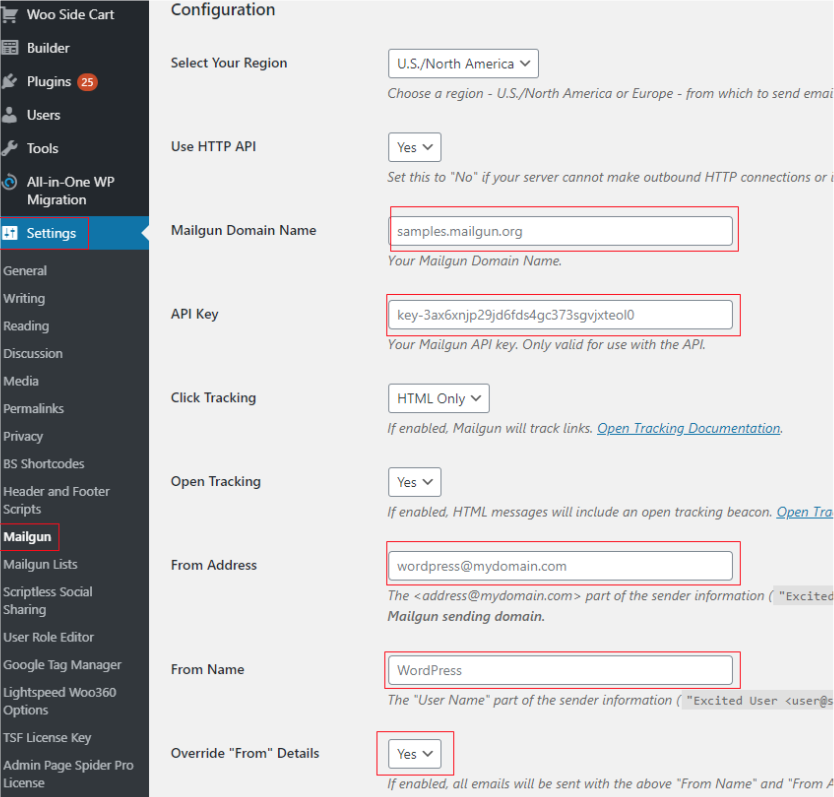 6. Press save and test configuration. Your website emails should start coming from the email address you setup to your inbox.
Have the Marketing 360

®

Team Set up Your Mailgun Account for you
For an extra fee, please let us know If you would like us to set this up for you. If you opt for this option, please complete step 1 and 2 of this article and send your account manager the following information:
Your Mailgun Login Credentials
Your Domain Registrar Login Credentials
Mailgun Domain Name you would like to use

: ie "mailer.yourwebsite.com"
Email address you'd like your emails sending from

ie: noreply@yourwebsite.com
The from name you would like displayed on the mail

ie: Your Website