Use the Customers page in Marketing 360® Payments to manage your Payments customers. Keep in mind that this page displays Payments customers only. This is a separate list and does not include other contacts from sources like your CRM.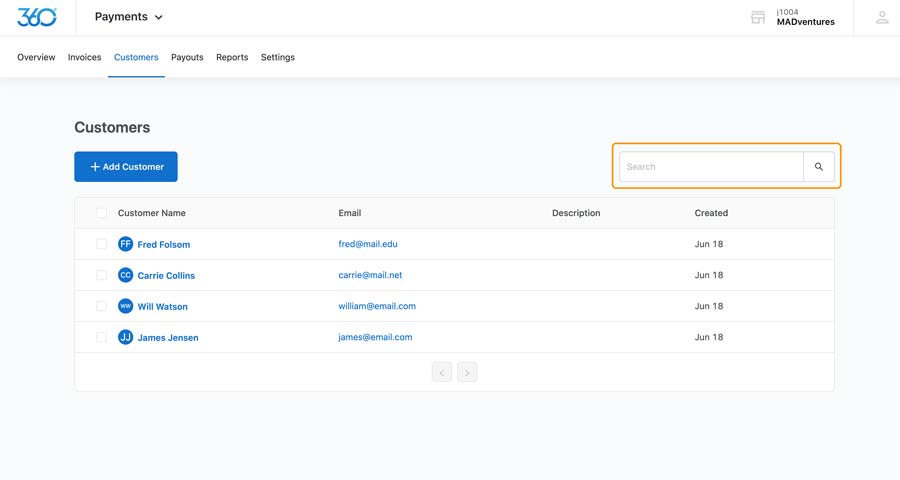 From here, you can use the search bar near the top right corner of the page to seek out any Payments customer.

Once you've found the customer you're looking for, click their name to view customer details like contact and account info, the customer's current balance, cards they have on file with your business, and a list of invoices. You can update all this information from this page as well.
Adding A New Payments Customer

When you need to add a new Payments customer, just click the + Add Customer button near the top left of the screen. This will open a form where you'll enter the new customer's information. Once you've confirmed that all the info looks accurate, click Add Customer to save.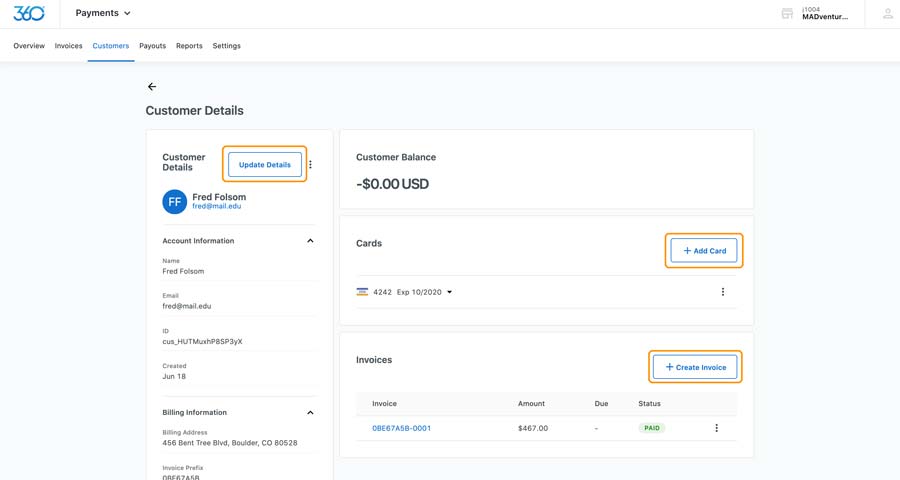 Updating Customer Details
To update a customer's details, click the Update Details button below their name. Here you can update their account or billing information.
Adding A New Card for a Customer
If you need to add a new card for one of your customers, click the + Add Card button. Just enter the card details and click Add Card.
Creating an Invoice for a Customer
If you need to create an invoice while viewing a customer's details page, click the + Create Invoice button. This will display a form you can use to add the invoice items, quantities, and prices, as well as custom memo text to give them extra details and/or footer text for things, like a thank you note. To get the full scoop on invoices, check out this support article.