Do you have a Gravity Form on your UXi® website, but are not receiving form submission notifications to your email inbox? If so, it is likely happening because Email Service Providers (ESP) like Yahoo, AOL, and Google have started tightening their Domain-based Authentication, Reporting and Conformance (DMARC) policies to help reduce spam.
There are a few potential solutions.
1. Add postmaster@uxi.io as the "Sent From" notification
To fix this, you will want to update your Form Settings to use the email address postmaster@uxi.io in the "from" address in our form notifications.
1. To get started, log in to your website's Admin panel (also known as the Back-end editor).
2. On the left-hand sidebar, click on the Forms icon, then select Forms from the dropdown menu. This will bring you to a list of all of the forms on your website.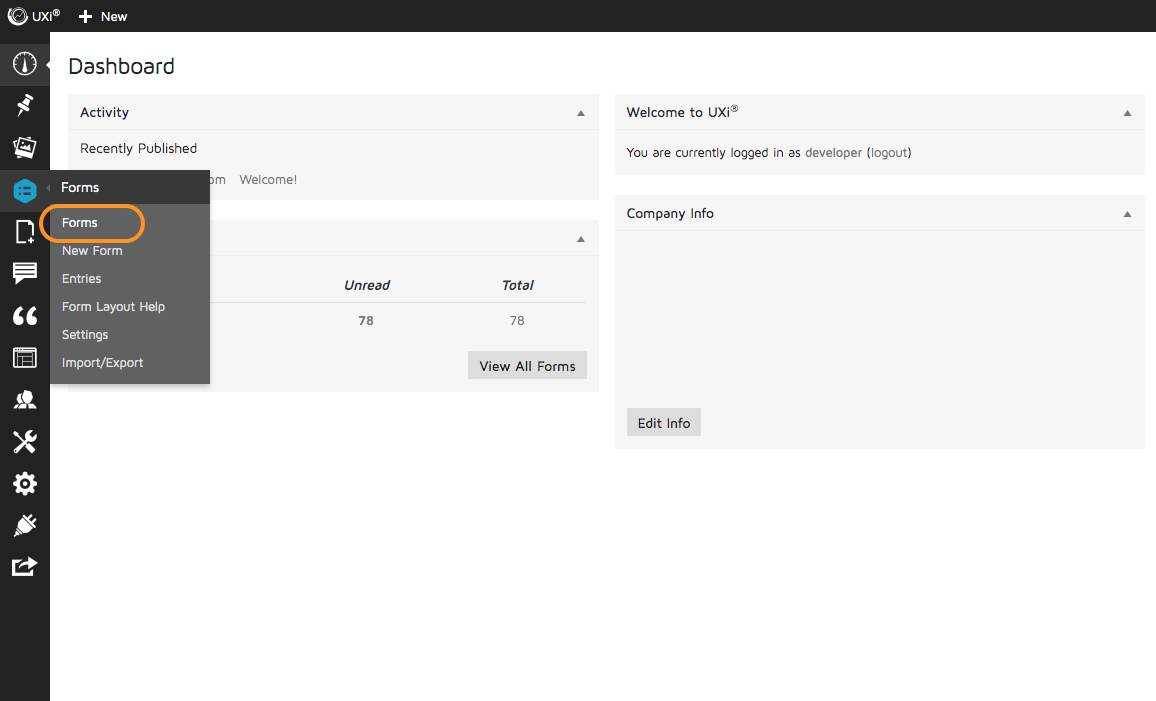 3. Navigate to the form that you are not receiving notifications for. Hover over the name of the form, then hover over Settings. Click Notifications from the dropdown menu that appears.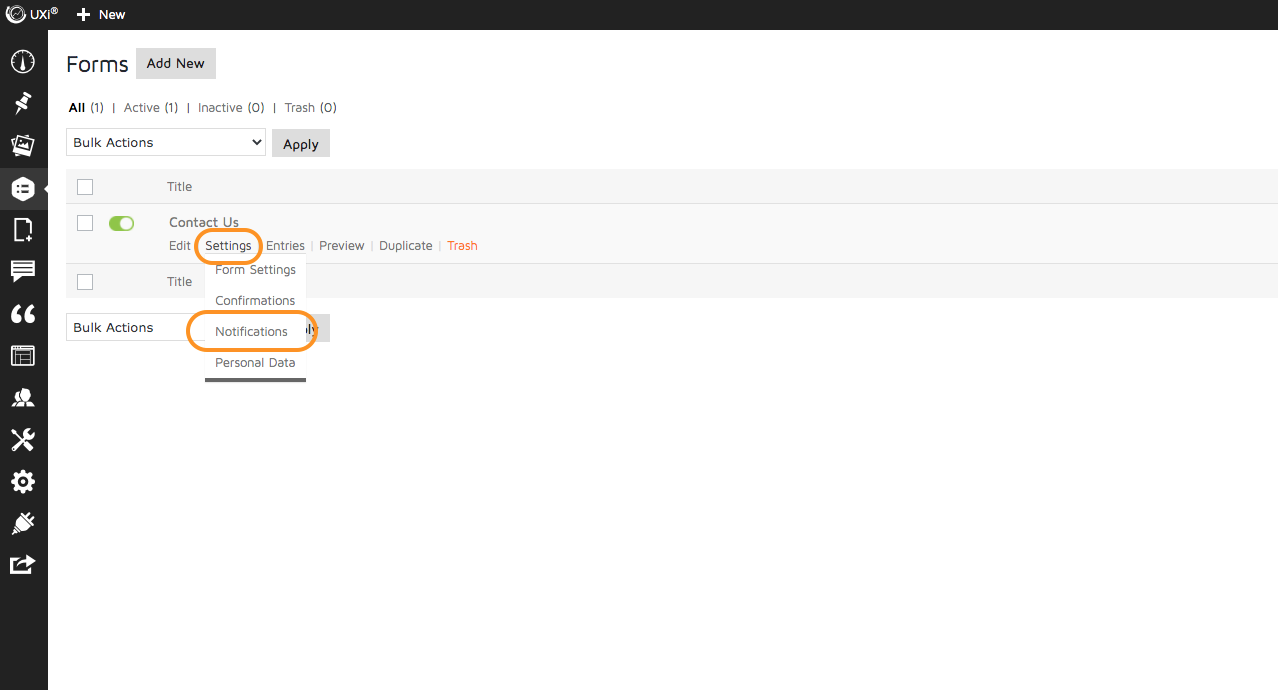 4. You will see a list of the notifications set up for your form submissions. Hover over Admin Notification and click on Edit.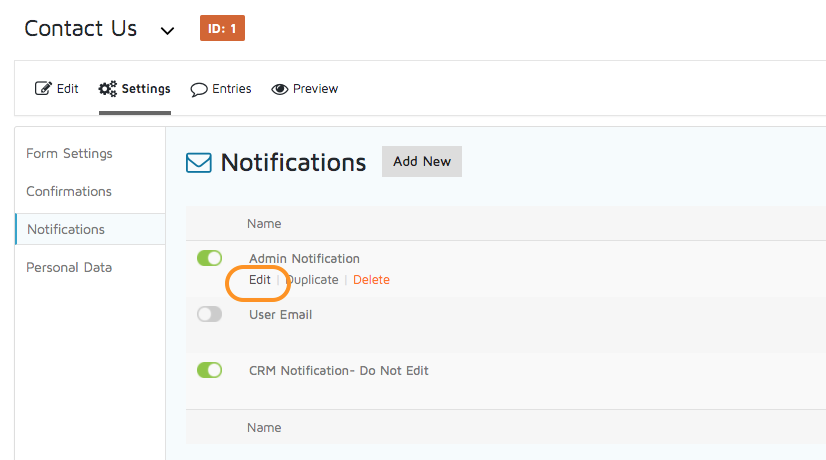 5. In the field labeled Sent From, enter the following email address: postmaster@uxi.io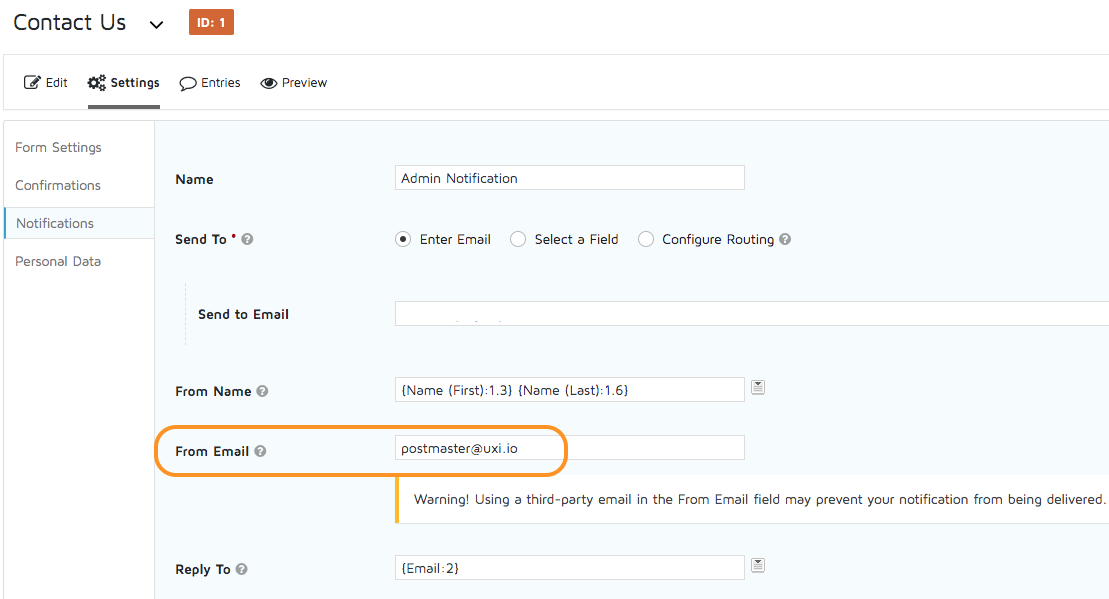 6. Click the orange Update Notification button at the bottom of the page.
7. Fill out the form on your website and send a test submission. Check your email inbox and see if you are now able to see the form submission notification email. Make sure you check your spam folder.
2. Add postmaster@uxi.io to your email system's "Safelist"
To ensure that these email notifications do not end up in your spam folder, you can add the notification email address to your email account's "allow list" ensure that it always arrives in your inbox.
Most email providers have a "Filter" setting, where you can specify rules for specific email addresses.
Add an Email Filter in Gmail
1. Sign in to your Gmail account and click on the "gear" icon at the top-right corner of your inbox. This will open a dropdown menu, where you will select See All Settings.
2. Once in your Settings panel, select Filters and Blocked Addresses at the top of the screen.
3. Click Create a new filter.
4. In the text box next to From: copy and paste the following email address: postmaster@uxi.io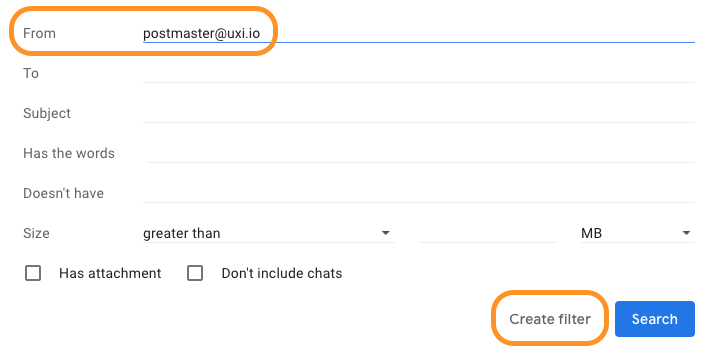 5. On the next screen, check the box labeled Never send it to Spam and click Create filter to save.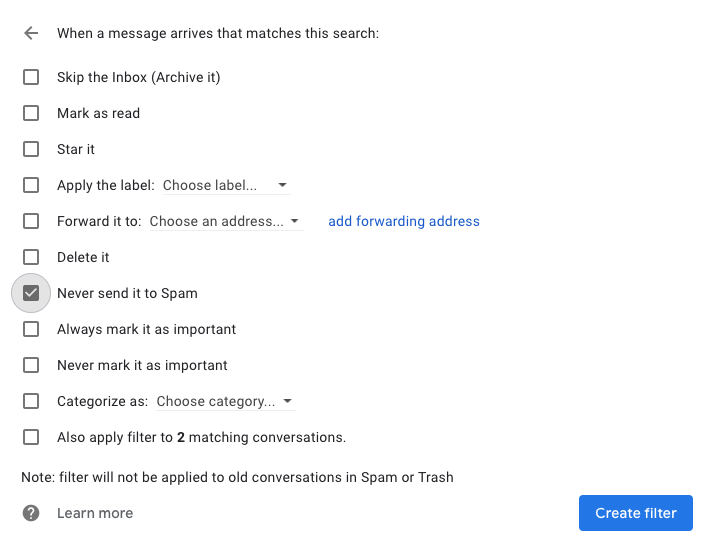 Add Filters in Yahoo! Mail, Outlook, and AOL
You can add email addresses to your "allow list" in other email platforms by creating filters and managing spam settings.
3. Check if your mailbox is/was full
Sometimes, if your email inbox is full, a form notification will "bounce" back. When the notification bounces, then the email address is automatically added to a suppression list by Wordpress. When this occurs, the email will need to be manually removed from the suppression list.
If the above solutions do not solve the issue and you believe that your email address may be on a Suppression List, please submit a support ticket to support@marketing360.com to request to remove the email address from any suppression lists.