The Ads Campaigns page provides insights to the ad performance on each individual campaign. Use this page to track the effectiveness of each individual campaign so you can see which ones are driving the best results.
Filters
When reviewing your stats, its best to start by filtering. The right column displays several helpful filters that allow you to dig into specific dates, channels, ad types, or a combination of the three.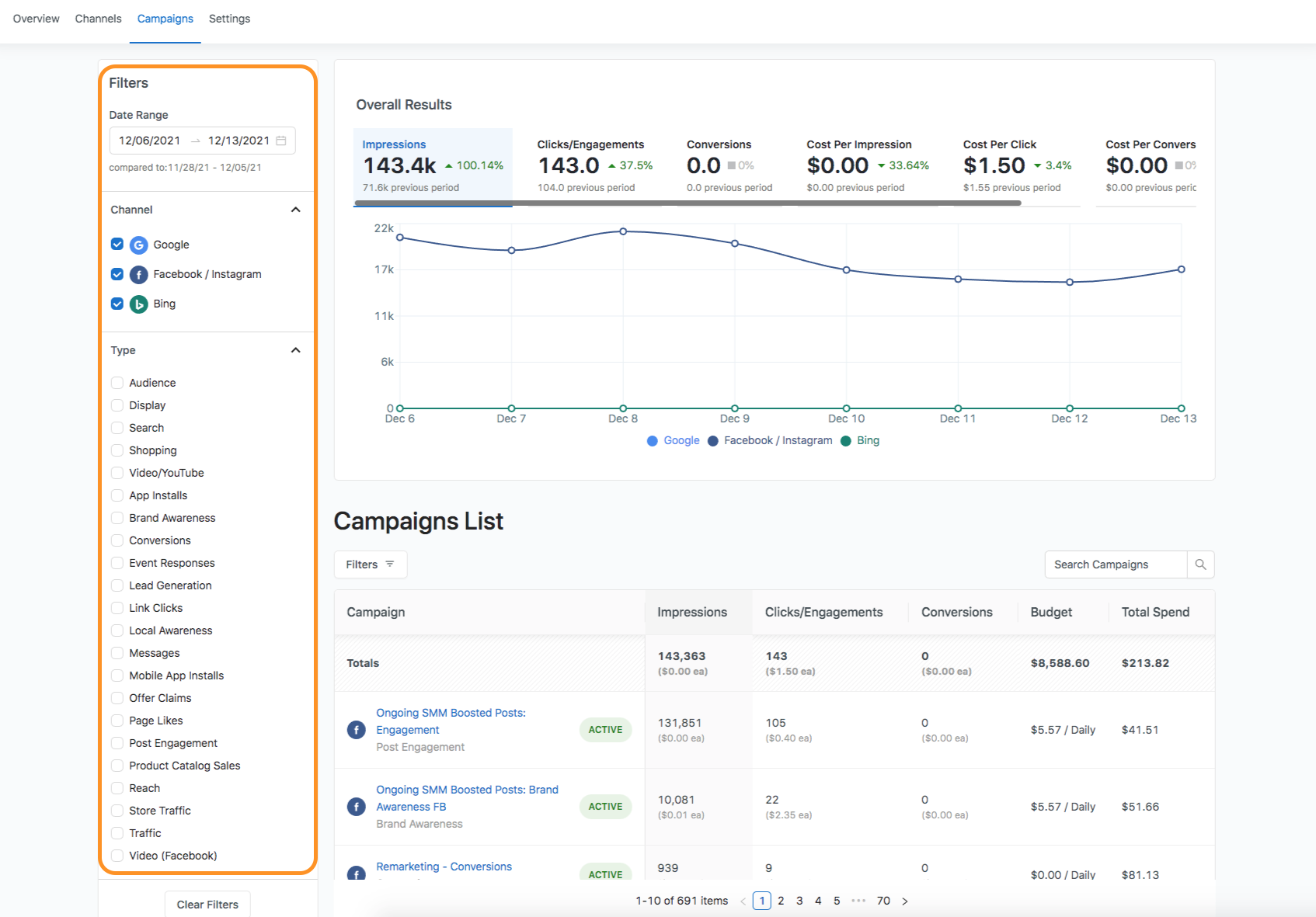 Date Range
When you select a date range, a comparison will also display below. For example, if you select a date range of 'one week', it will be compared to the week prior to your selection. If you select a custom date range that includes the last 8 days, the stats will be compared to the 8 days prior to that. This gives you the ability to see trends and comparisons in your stats.
Channel
Select a specific ad channel to review. This will re-load all the graphs on the page to show only the channels you select. Note the color codes that are associated to each channel. These are used throughout the other graphs. If no channels are selected in the left column, the stats that display will be for all channels combined. Make a selection to see the stats for specific channel(s).
Type
Select which ad type you'd like to review. Similar to the Channel filter above, if you do not select a specific type, the graphs will display the combined overall stats.
Overall Results
The Overall results graph displays clicks and cost per click over the last week. The dark blue bars display the number of clicks and correlate to the left axis that counts from 0 to 1k. The light blue bars display cost per click and correlate to the right axis that counts upwards in dollar amounts.
| | |
| --- | --- |
| Impressions | A count of the total number of times your ads display on someone's search results |
| Clicks | The total number of times a user clicked on one of your ads |
| Conversions | The number of times that an ad click led to a user taking an action (i.e. submitting a "Contact Us" form or calling you) |
| Cost Per Impression | The average cost you are paying per every 1,000 impressions |
| Cost Per Click | The actual price you pay for each ad click |
| Cost Per Conversion | The total cost paid for your ad in relation to its success in achieving its goal (i.e. a user converting into a customer) |
Campaigns List
The Campaigns List panel displays each of your campaigns individually so you can review stats and trends for each. At the top of the panel, you'll see a Totals row where all the campaigns are aggregated so you can see their overall combined totals.
You can also narrow down the campaigns you analyze by filtering the Campaigns List by status: All, Active or Paused.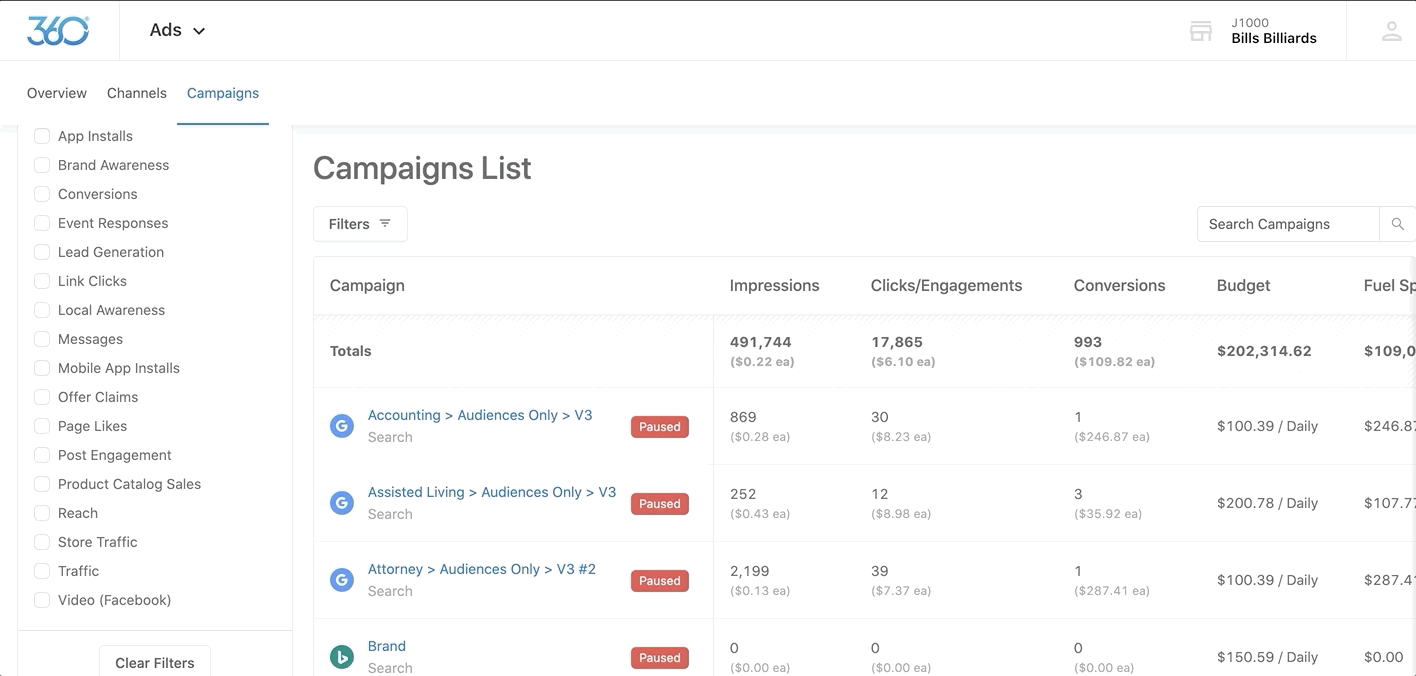 Campaign

The name of each campaign is shown in blue and an icon next to it will depict the platform of the campaign.

The type of campaign is displayed below in grey.

This column also displays the campaign status to let you know if the campaign is either Enabled or Paused.

Impressions
A count of the total number of times your campaign ad is displayed to your audience
Clicks/Engagements
The total number of times a user clicked on one of your ads.
Conversions
The number of times that an ad click led to a user taking an action (i.e. submitting a "Contact Us" form or calling you)
Budget
The total daily maximum budget for the campaign
Fuel Spent
The total amount of Fuel spent in Marketing 360 on the campaign