You can easily create a new invoice to send to your customers using the Payments app. To get started, log in to Marketing 360® and select Payments from the Global App Bar in the top-left corner of your dashboard. Next, select Invoices.
1. To create a new invoice, click on the blue + Add New Invoice button on the top-right corner of the page.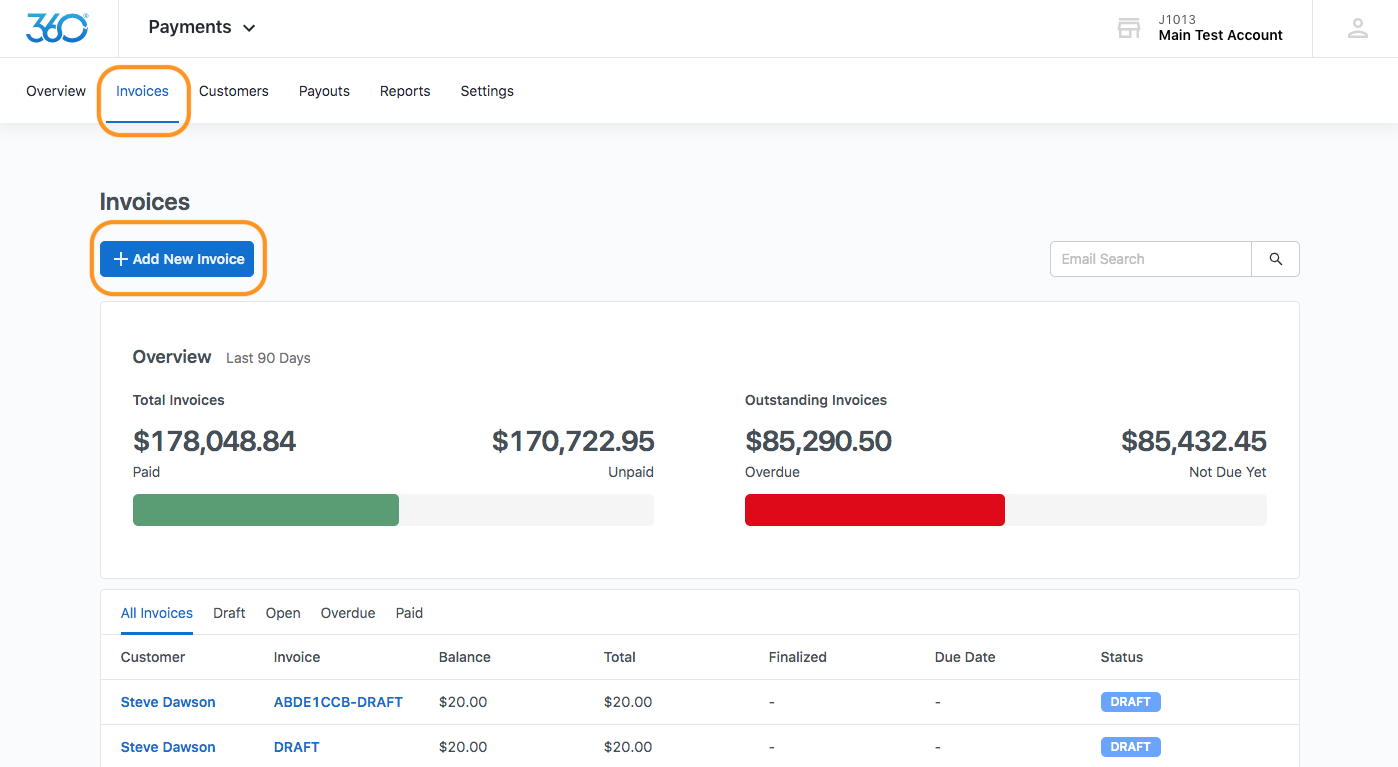 2. A popup window will appear where you can begin filling out the client's information. Enter your customer's name, or select a customer that is already within your payments customer list. If they are a new customer, you'll be prompted to enter their name and email address.
3. If necessary, click the + add full customer details link to enter in a description, as well as their billing information.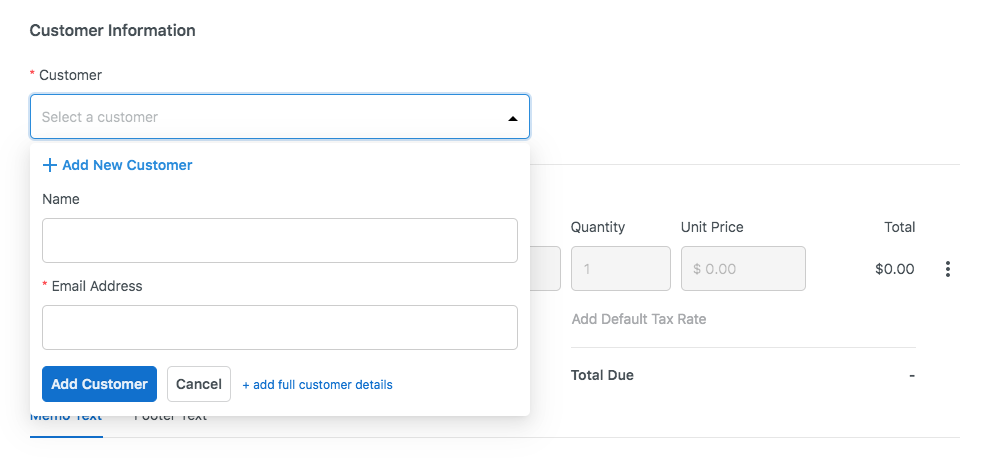 5. In the text box labeled Description, write the item or service provided to your customer. This will appear on the invoice, and let the customer know exactly what they paid for.
6. Add a quantity amount if applicable, as well as a unit price. You can add more than one item or service by clicking on the + Add Additional Item link and following the same process. You'll notice that the system automatically totals up your items in the Total column.
7. If you need to add tax to your items, you can do that by clicking on the Add Default Tax Rate link, and selecting the tax you'd like to apply to your list. Please note that this adds the tax to every item listed on the invoice.
8. If you'd like to add tax on an individual item level, click on the vertical ellipses to the right of the item, and select Set item tax rate. This will apply it to the single item, and not every item on the invoice. This is also where you can remove the item from the invoice.

9. Optional: Once you've added your items to the invoice, use the Memo Text or Footer Text to add more information to your invoice.

10. Choose whether to automatically charge your client with a card that is already connected to their account or email the invoice to your client for them to pay manually. If the client doesn't have a card attached to their account, click the + Add Credit Card button to enter their billing information. If you want to send the invoice for the client to pay manually, select the second option, and set your payment terms. This defaults to 30 days, but you can change this payment date by changing the number in the Payment Due box.

11. Once you're finished, click the Finalize & Send button, and the invoice will send immediately via email. Should you need to close out this invoice, but not need to send it just yet, use the Save & Close button, and it'll be saved as a draft.