Once you have claimed your Top Rated Local listing, you can update your business details by logging in to your Marketing 360® account and navigating to the Reputation app.
View and Edit your Business Location details
From the Reputation app, select Edit Location in the top-right corner of the page. If you have multiple Business Locations, select the desired location from the drop-down menu to the left of the blue Edit Location button.

You will be redirected to the Locations Settings dashboard. On this page, you can edit your location's details as needed. When you are finished making changes, click Save Changes at the bottom of the page to publish the changes!
Updating Your Business Details
On the Edit Location page, you can edit the following details:
Basic Info
In this section, you will list your basic business information, including your business' name, phone number, category, and street address.
Please note: changing your Business Name will also change the URL of your Top Rated Local profile, so be sure to update any links pointing to this profile. Changing your business name or address may also affect your Rating Score, so make sure that your third-party listing profiles are up to date.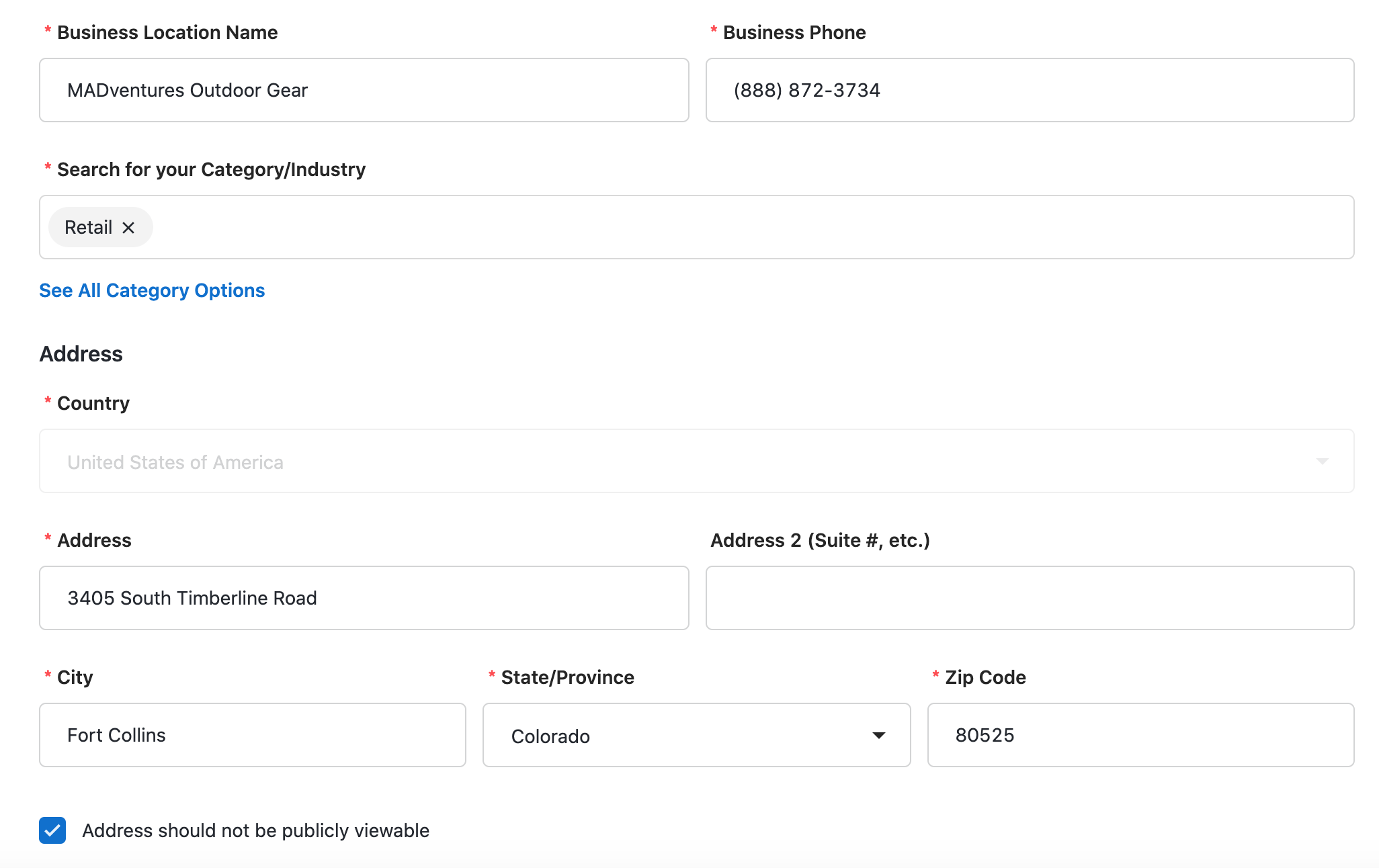 Additional Info
This section provides options to add more descriptive details about your business, such as listing your primary business email address, a link to your website, and a description/bio of your business.
You can also upload your logo and set your store hours in this section.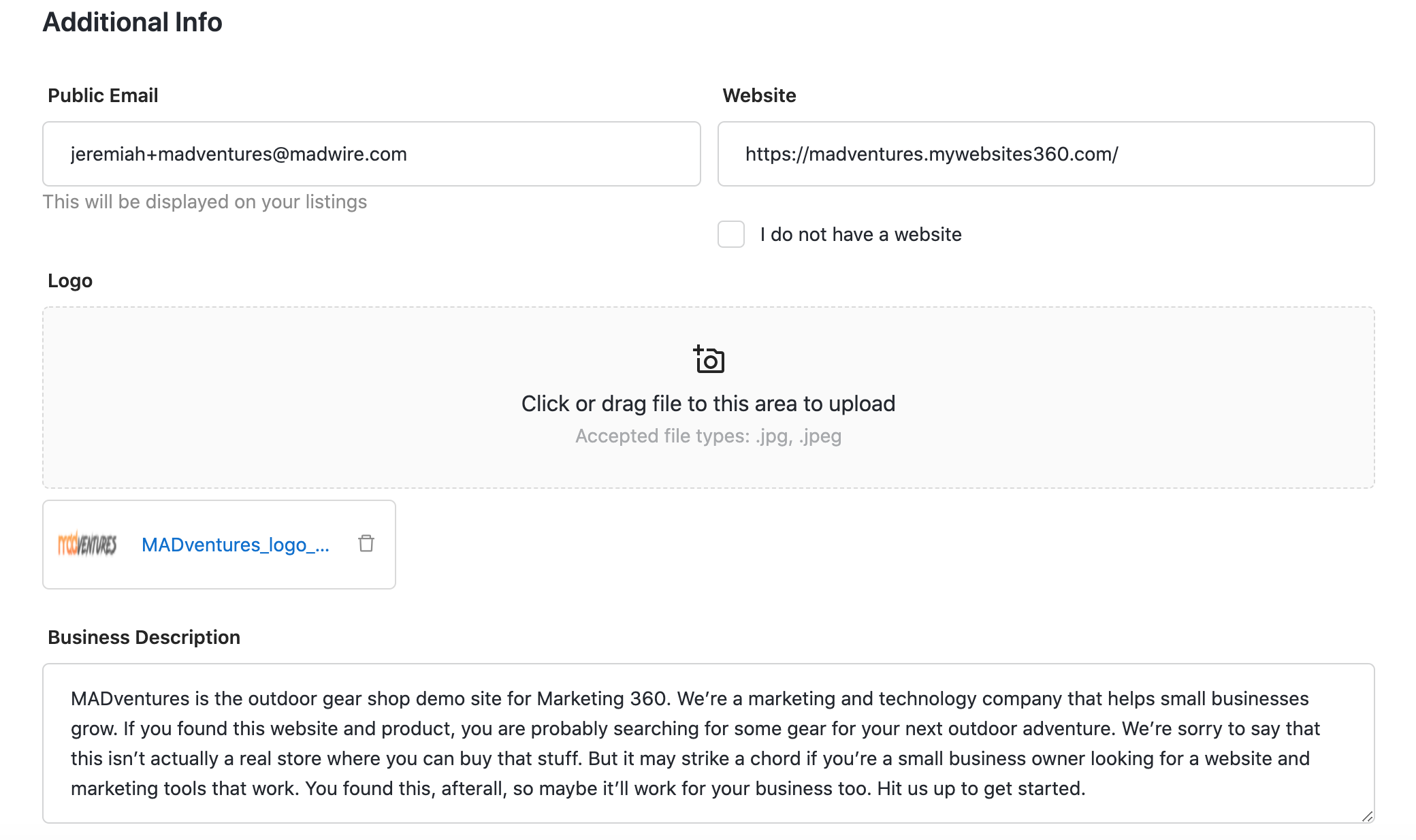 Add Premium Business Info
You have the option to add "premium" business information that will display on select third-party listing websites. This information is often known as "rich data," which appears on services like Google My Business, Yelp, Facebook, and other local listing sites. Adding these details can help improve your business' performance in search rankings.
To unlock Premium Business Info, you will need to subscribe to the Listings app on Marketing 360®. To get started, click Activate Listings.

Once you have the Listings app activated, you will see the Premium Info fields populate.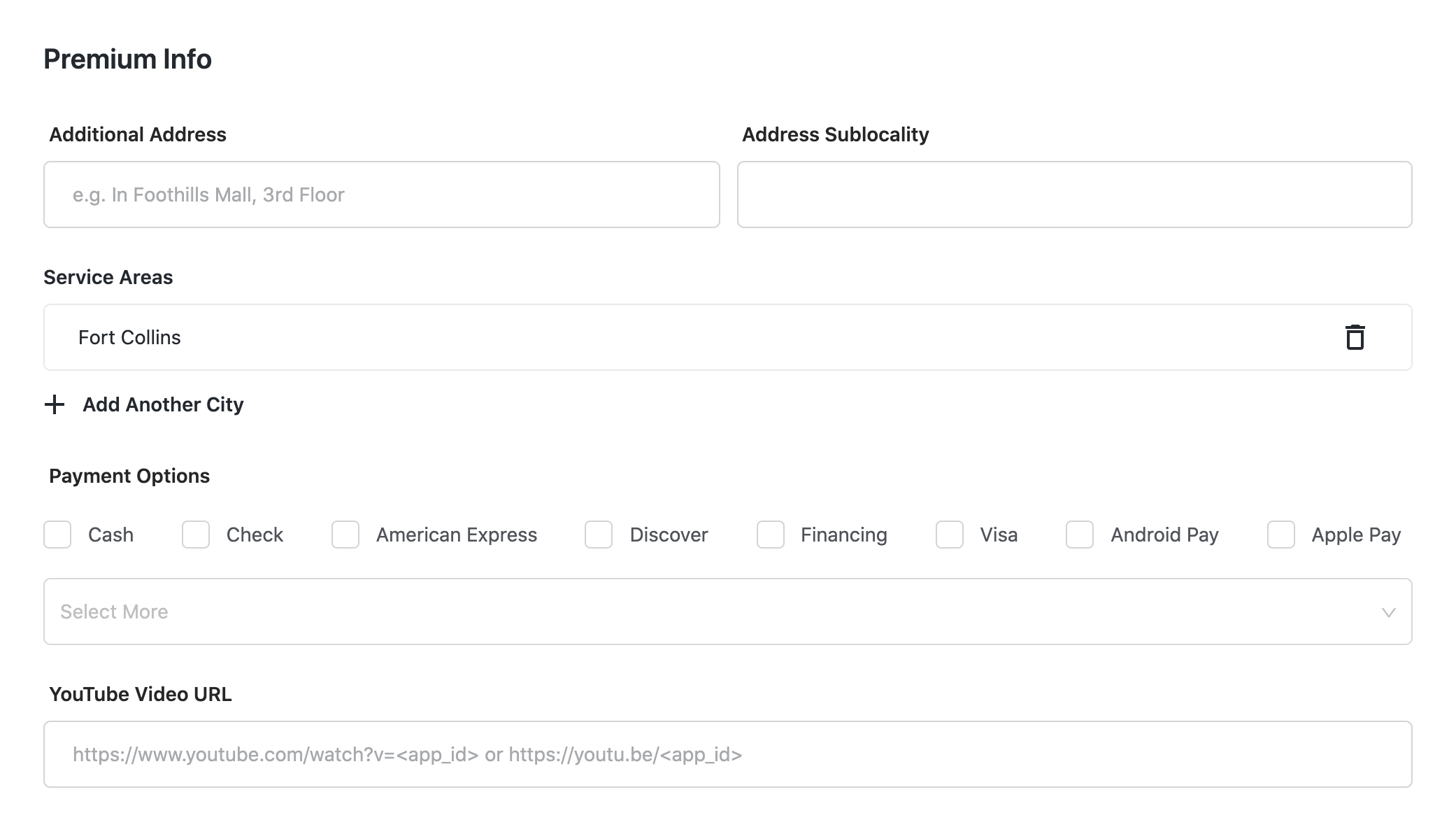 With Premium Info, you can add the following information:
| | |
| --- | --- |
| Field | Description |
| Additional Address | A more detailed description of where your business is located; for example "In Foothills Mall" or "3rd Floor." |
| Service Area | List which cities your businesses "serves" that are outside the city your business address is located. |
| Payment Options | Select all payment options customers can use at your business. |
| YouTube Video URL | Link a YouTube video to your local profiles. |
| Featured Message | A "call out" message appears on many third-party sites. This is a great place to advertise sales or promotions. |
| Specialties | Select additional descriptive categories to show what your business specializes in. |
| Associations | List the professional associations that you or your business belong to. |
| Languages | List the languages spoken by you or your employees. |
| Toll Free Phone/Fax | Add additional phone numbers to your profile. |
| Reservation URL | Link the URL to the page or widget where customers can place a reservation. |
| Order URL | Link to your online ordering page. |
| Android/iOS App URL | Add the URL link to the page on the Apple or Google Play Store where user can download your app. |
| Year Established | List the year when your business was started. |