Keywords are words used for search engine optimization (SEO). The Keyword report helps you to visualize how many keywords you have ranking by group, as well as single keyword performance over time. This report data is pulled directly from your Google Search Console account that can be connected via your Integrations Settings.
Obtaining a better Average Ranking on your keywords will generally move your website higher in search results when people search your related search terms. The closer you are to an Average Rank of "1", the closer you are to the top of search results.
To access your Keywords data, navigate to the Content App using the dropdown menu on the top-left corner of your Marketing 360® dashboard, and select the Keywords tab at the top of the page.

Organic Keyword Ranking Graph
The graph shows the number of keywords you were ranking for across a given time period. Hover over the graph to see how many keywords you ranked for on any given day in each ranking group.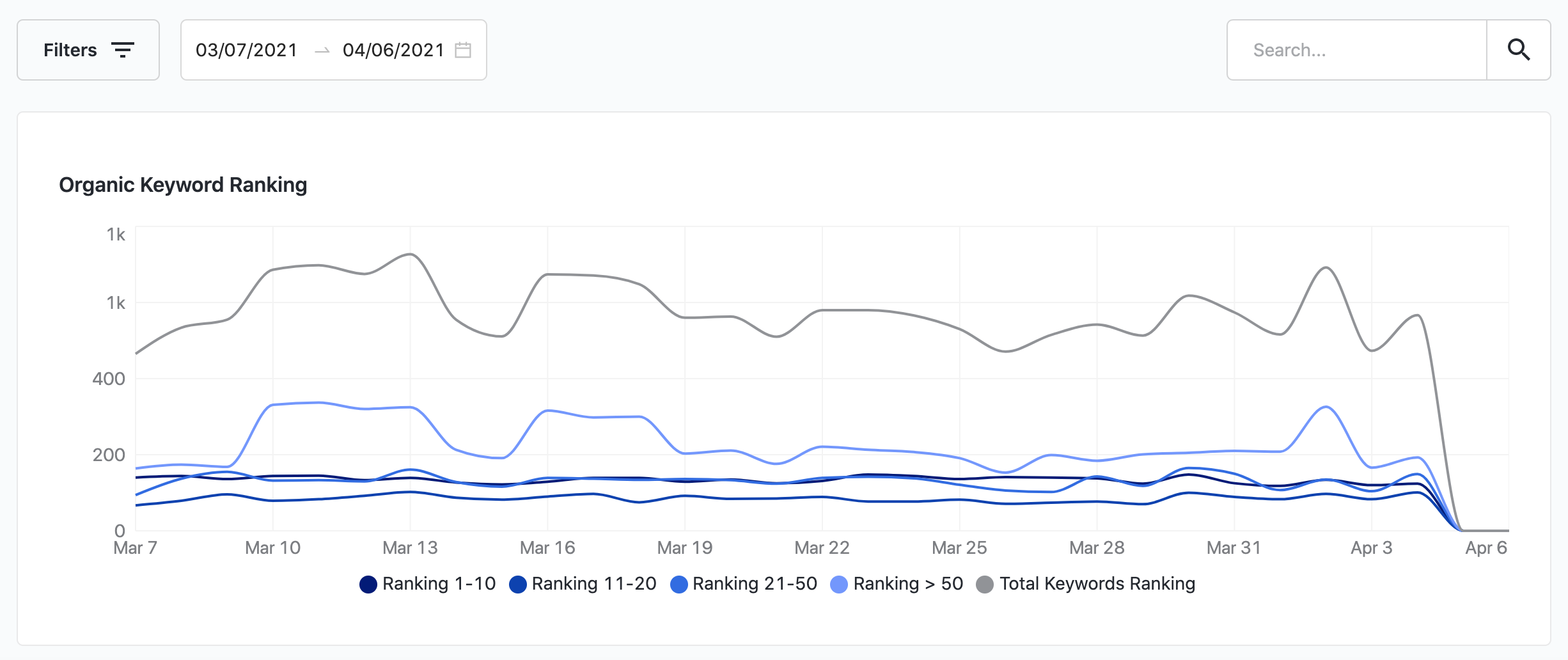 Ranking Groups
Ranking groups help visualize organic growth based on your average keyword rankings over time.
1-10 =

Number of keywords ranking between 1 to 10.99 from search results within the given time period (generally 1st page of google and where you want to be in organic search)

11-20

= Number of keywords ranking between 11 - 21.99 from search results within the given time period

21-50

= Number of keywords ranking between 21 - 50.99 from search results within the given time period

> 50

= Number of keywords ranking greater than 50 in search results during the time period

Total Keywords Ranking

= the total number of keywords you had ranking in search results from the given time period.
You can filter the graph by a specific ranking group to narrow down your focus on specific keywords by their average ranking.
Keywords Table
The table breaks down performance of individual keywords across the key performance indicators that are most relevant. Each row represents a single keyword except for the Totals Row. The Totals represents the sum or total Average of each metric.

Table Breakdown
Star

= Favorite Keywords. Click this to better keep track of specific keywords.

Keyword

= The keyword or phrase

Average Ranking

= The average position or rank you had for that keyword in the selected time. Total average rank is a representation of your average position or ranking across all Keywords in the table

Impressions

= Number of times you website was visible in search results based on keyword. Total is the sum of all impressions across all keywords in the table

Clicks =

The number of times your website was clicked from search results based on keyword(s).

Total is the sum of all clicks from all keywords in the table
CTR

= (Click Through Rate) is the % of people who clicked your search result after seeing it. Clicks / Impressions. Higher click through rate percentages typically indicate better matches on search results to what users were looking for.
The "star" on the far left column is an indication of your favorite keywords. Click the star next to keywords you want to keep track of, improve performance for, or is doing well. You can favorite as many keywords as you like. Click the star again to un-favorite a keyword.
Hover over Each Keyword row and you will see a "Performance Details" button displayed. Click the button to view that keyword's performance details.

Keyword Performance Details Pop-Up

This performance pop-up allows you to visualize the single keywords performance over time as well as see which of your website pages are utilizing the specific keyword. The keyword you are looking at will be displayed at the top of the performance modal.
Click each key metric box to visualize it in the graph shown. The time period is based on the time frame you define in the main Keywords Report. The compared to time is automatically defined based on the time period you have selected. This is used to indicate in each key metric the general trend by a % increase or % decrease across the two time periods.
Report Filters
You can filter the data in both the graph and table simultaneously to show information about your keywords based on specific criteria. You can filter data by clicking the Filters button or on the date range field on the top-left corner of the Keyword Ranking Graph.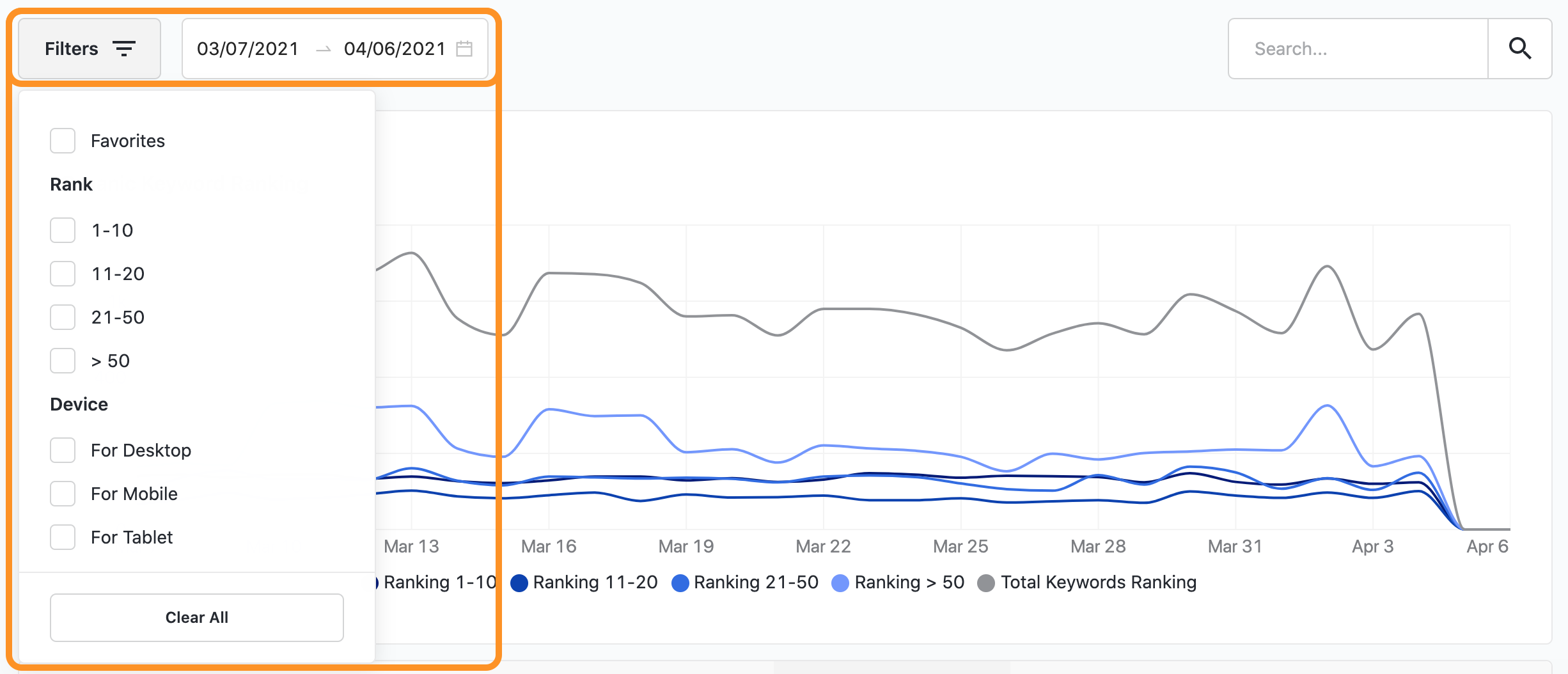 Time

is the start date and end date you would like to be shown within the report. The default is always the Last 30 days if you do not select a time period. You can also select the easy time frames from the predefined ranges in the date picker

Favorites

allows you to filter keywords data in the graph and table only by the keywords you have Starred.

Ranking Group,

as defined above this filter allows you to look at keywords only within each of the ranking groups. You can select multiple groups at a time or a single group

Device

allows you to filter by keywords based upon the device type users search from.
Additional Info
Data in the keywords report is based solely on the data from your Google Search Console account. Note that this does not include other organic search engines data such as Bing.
You may notice that when including today's date in your time selections, the last 3 days are reporting "0" or reduced data in a downward trend (see screenshot below). This is not due to any issues or your keywords performing worse. Data during this time frame is in process of being updated by Search Console and may not be available immediately. You will want to re-check these dates in 5 - 10 business days to get the most accurate measure of results.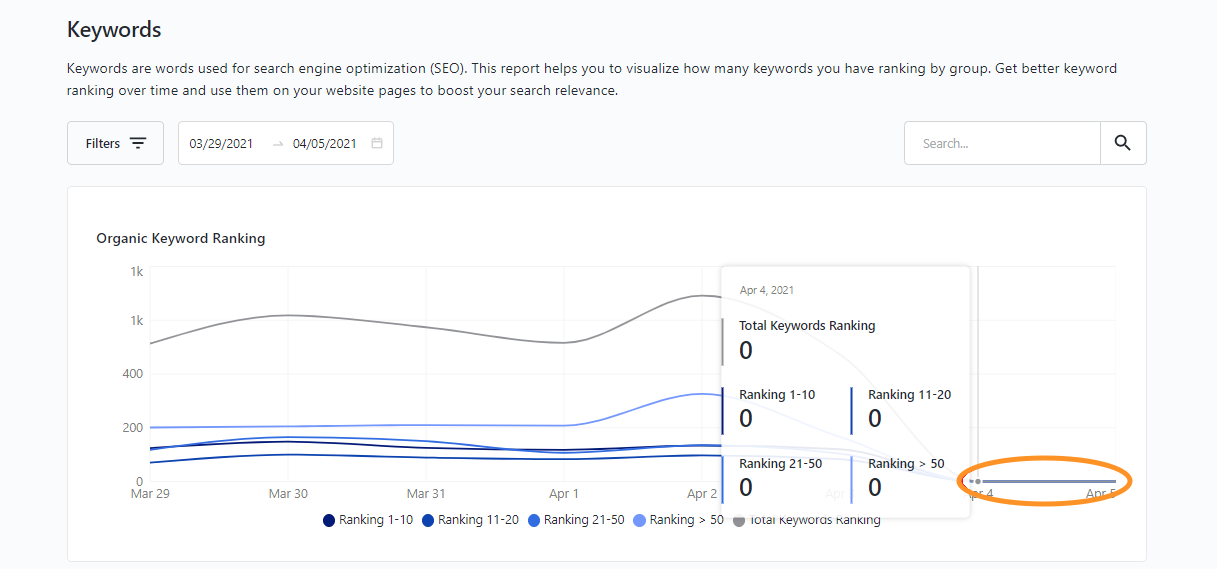 As you make improvements to your website and build upon new keywords, these changes may not be reflected right away in this report. Data is updated on a rolling 30 day window and continuously synced back to your account.
Content Marketing and SEO are best suited for long-term strategies. When looking at your keyword ranking growth day-to-day, you will not typically see large spikes or changes. Over time, however, you want to see positive trends. 30 days to 3 months - or even longer - are usually good time frames to visualize trends.
Finally, make sure that your website is verified and up to date with all of your indexed pages from Google within your Search Console account. Issues with this report may arise if you have selected the wrong domain, connected the incorrect account, or your SSL Certificate has expired on your website. You can reach out to your Marketing Success Manager for more information if needed.