Once your form is built, the last step is adding it to your website! The Embed tab displays a snippet of code. Simply click Copy Embed Code to copy the code snippet, then paste it into your website where you'd like the form to display.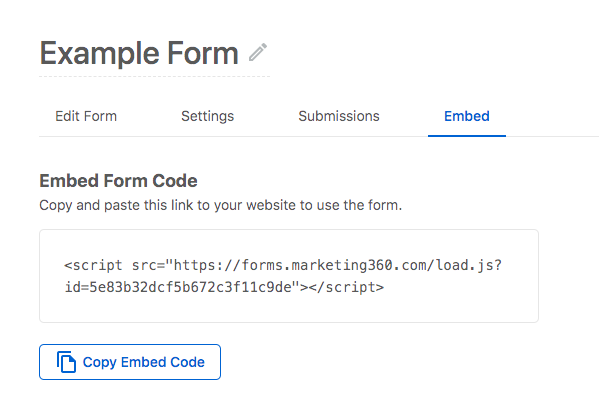 Where Do I Embed My Form?
Paste the embed snippet exactly where you want your form to display on your website. There are no additional header scripts needed. Most popular website platforms allow you to add HTML wherever necessary in things like a 'code block' or 'snippet widget.' Depending on what website platform you use, you may need to enlist the help of a web developer familiar with HTML.
If your website is hosted on Websites 360, you can insert your form's embed code in an HTML Block.
I Made Changes to My Form. Do I Need to Embed the Snippet Again?
No. Once a form is created, it's embed code never changes. That way, you can make edits as often as needed without having to embed new code again!
I Deleted My Form. What Happens to the Site It's Embedded on?
If you delete a form from Marketing 360®, it will no longer output on any sites where it had previously been embedded. If you mistakenly delete a form that's embedded on a site, you'll want to re-build and re-embed it quickly!