To make collecting customer reviews as easy as possible, Top Rated Local® allows businesses to be added by the customers that want to review them. After all, if you've impressed them so much they want to add your business and leave a review, who are we to stop them!?
If your business was already added to Top Rated Local®, now it's time to claim it as your own! If you already have a Marketing 360® account, you can follow the steps below to claim your Business Location in your Reputation overview.
If you do NOT yet have a Marketing 360® account, jump down to the How to Verify Your Affiliation to Your Business section.
Claiming Your Business Location in Reputation
Start by clicking the App Bar drop down in the top-left corner of your app.marketing360.com dashboard, then select Reputation from the menu.
If you do not yet have a Top Rated Local® listing connected to your Reputation dashboard, you will see a message stating "No Business Locations Detected." Click Add Business.
You will be prompted to search for your city (where your business is located). When you begin typing, a list of cities with Top Rated Local® listings will populate. Select yours from the list to move on to the next step.

Next, search to see if your business location is already listed on Top Rated Local®. If your business displays in the results, click your business title in the search results to complete your profile and claim your business!
Enter your business details as requested. All fields marketing with *

are required. Click

Continue

.

You will be asked to provide some additional information about your business, such as a description, your public-facing email address, your website link, or your business hours. These details are not required, but they help improve the accuracy of your business information on third-party listing websites. Click Save to complete the process.
When the Business Location has been successfully added to your Marketing 360® account, it will display in the drop down list of existing Business Locations on the top-right corner of your Reputation dashboard.
How to Verify Your Affiliation to Your Business
If you do not yet have a Marketing 360® account, you will need to verify your affiliation with the Business Location in your Top Rated Local® profile. To begin, please submit a support request here. You have two ways to verify:
Send an email from an email address that matches your business name. Simply state that you would like to claim/be added to the listing. For example, if your business is named MADventure Outdoors, any email address ending in @madventuresoutdoors.com would suffice.
If you do not have an email address that matches your business name, then you will need to provide documents that prove that you own/are affiliated with the business. Please attach a picture or scan of any bills or mail that includes your business name and location. This can include a utility bill, business license, property tax record, lease agreement, etc. Below: An example of the information to include.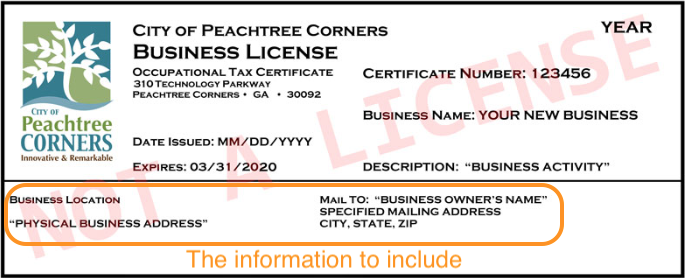 If you have any additional questions about verifying your business or making changes to your listing, please reach out to support@marketing360.com to speak with our support specialists.
What to Do if Your Business Has Already Been Claimed
If your business has already been claimed in Marketing 360®, that generally means one of two things:
Another business of the same name has already been claimed by another user.
A teammate or co-worker may have already claimed your business.
What Comes Next?
If another business of the same name has already made a claim, contact our customer support team by filling out this quick form and they'll help you create a unique listing for your business.
If a teammate or co-worker has already claimed your business, you can log in to Marketing 360® using the email address they used to claim the business initially. Use the "I Forgot My Password" link below the signup form if no one remembers the password.