Online reviews are becoming a more widely-used way for consumers to learn about a business or organization before making a purchase.
According to research done by BrightLocal for their 2019 Local Consumer Review Survey:
"82% of consumers read online reviews for local businesses, with 52% of 18-54-year-olds saying they 'always' read reviews."
"Only 53% of people would consider using a business with less than 4 stars."
Reviews are important to your customers, so it's important that you maintain a positive online reputation for them to see when searching online.
Find Your Business' Reviews
Log in to Marketing 360®. Next, click Reputation from the App menu to navigate to your Reputation Overview. This is where you can manage your reviews or business listing information on the Top Rated Local® platform.

Next, click Reviews from the Reputation page menu. This shows all of the reviews left on your Top Rated Local listing®. Use the Filters option near the top of the Overview to filter reviews by date, rating, or flag. You can also sort the reviews by score or date. Once you're viewing just the reviews you want, its time to take action!
Simply type your response and click the Reply button! The reply will be displayed below the review on your public profile on Top Rated Local® and the Top Rated Local® app. If the review is marked as private the reply and the review will both be hidden.


Advanced Review Actions
Click the three-dot icon to the right of any review to view the other available actions.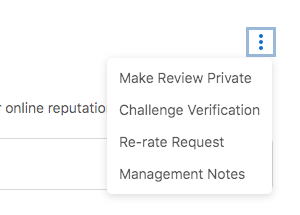 Verify a review
Top Rated Local® reviewers are required to verify their review via email verification before the review is posted and visible to the public. Prior to this verification, the rating will not affect your rating score.
If the user forgets to verify their review or they do not see the verification email, but you would like to see it included on your Top Rated Local® listing, click Verify Review.
Once the user has verified their review, click Verify Review. This will display a green 'Verified' badge next to their review, showing that you have verified that this review is from an actual customer.
Make a review private
Let's face it, negative reviews can happen. While Top Rated Local® does not give you the option to remove a review simply because it negatively affects your ratings score, you do have the option to hide the content of reviews when they contain things like untrue claims or profane language.
Select the Make Review Private option to remove the content of the review from your ratings and reviews profile page.
Remember, the actual star rating is still factored into your overall rating and Rating Score when you make a review private. Only the content of the individual review is removed from your profile.
Challenge verification
If you see a review left on Top Rated Local® and you're unsure if it was submitted by an actual customer, you can use the Challenge Verification option.
Use the Challenge Verification option to remove the rating and review until proof is provided to a Reputation Manager that the review was submitted by an actual customer. Items like receipt copies, invoices, proof of payment, or verification of email can be used as verification.

Re-rate request
The best thing you can do to resolve a negative review is to fix the problem and reach out to the customer to let them know. What to do about the existing negative review though? If you're confident that you've resolved the issue that caused the negative review, use the Request new rating option to give the customer an opportunity to leave a new review. This will allow them to update their review and rating.

Management notes
Managing your online reviews isn't always a one-person job, It can often require coordination between multiple team members or even departments.
Use the Management notes option to add internal notes for any review. Notes saved here are only visible to your teammates. Click Recent notes to view any note already saved on the review or Add A Note to add a new one. If you'd like to email a copy of the note to the reviewer, select the option to Send copy of note to reviewer.
Review Management Tools
Click on the Reputation Settings Page, then choose Review Management on the left navigation. Here, you'll see an option to automatically mark all new Top Rated Local® reviews as private when the overall rating is less than 2 stars.
Marking these reviews as private will allow you to respond to their review and learn more about their experience. Once you've got a better understanding of their issue, it's time to wow them with customer service. Work with your team to resolve the problem, then send the customer a re-rate request so they can update their review!
Please keep in mind that enabling this option does not effect reviews that are already posted.