If you have claimed your Top Rated Local® profile, then you are ready to start managing your business profile and collecting reviews. You can edit your business details, read and respond to reviews, as well as ask your customers to leave reviews on your profile - all within the Reputation dashboard.
To find the Reputation dashboard, log in to app.marketing360.com, then select Reputation from the Global App menu.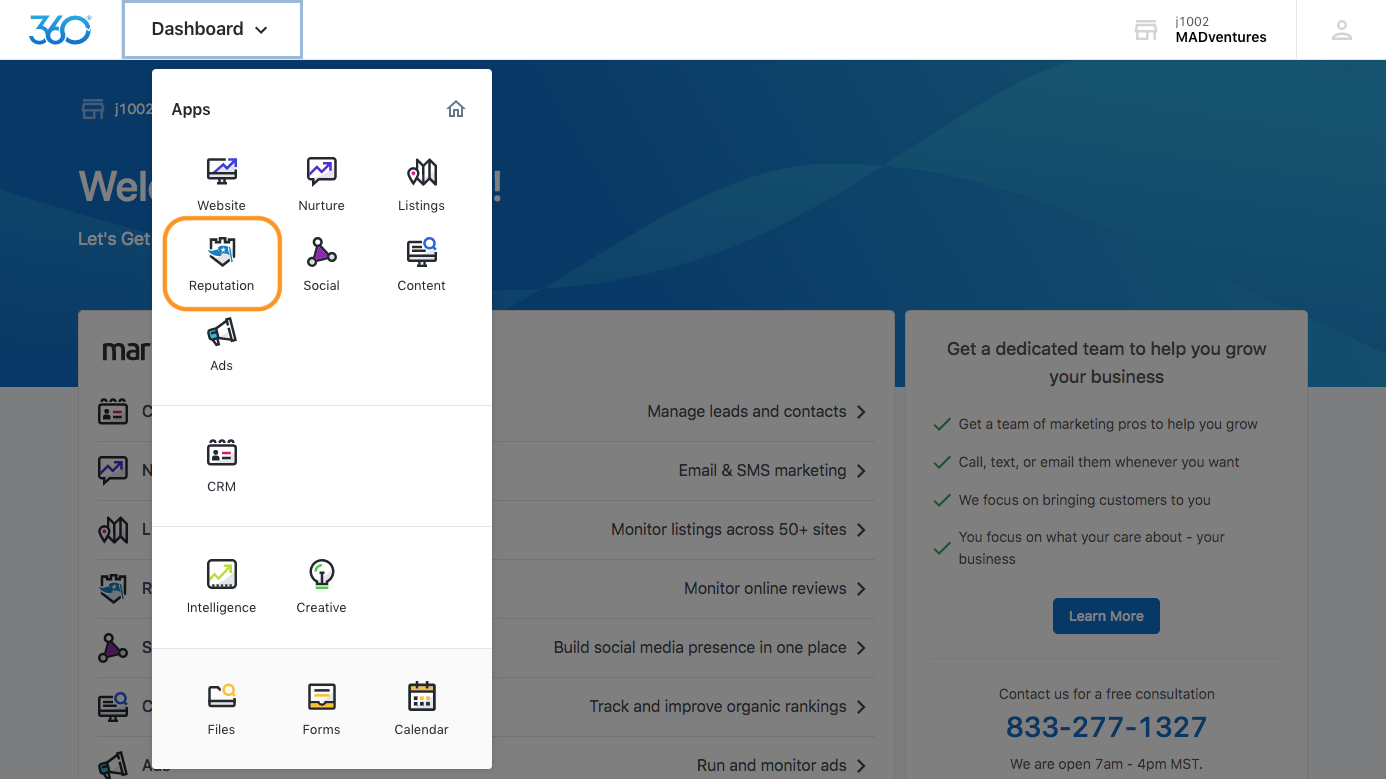 Overview
When you first navigate to the Reputation dashboard, you will land on the Overview page. The Overview page gives you quick insight into reviews that have been left for your business or organization.
You will see your Business Name listed in the top-right corner of the page. Click on it to see a drop-down list of all of the businesses controlled under your account.
Totals
The Total Reviews graph displays the total amount of reviews left for the business or organization. You can filter by Daily, Weekly, or Monthly intervals, or filter by review platform.
Rating Breakdown
The Rating Breakdown panel on the right-hand side displays your Top Rated Local® Rating Score. At the top of the panel, you'll see the lifetime average rating, the total amount of reviews, and the number of verified sites where reviews were collected.
Below that, you'll see your score broken down by each Top Rated Local® quality.
Your Rating Score is calculated by a variety of factors. To maintain a high Rating Score, practice the tips below:
Get reviews on a variety of different third-party review sites.

Improve the average rating score per review.

Increase the number of reviews per source.

Keep review data fresh and recent with new reviews.

Gather reviews directly on your Top Rated Local® listing!
Review Sites
The Review Sites panel displays all platforms on which reviews have been left for the business or organization. Each platform lists the number of reviews and the average rating to give you insight into which platforms are performing best!
Reviews
The Reviews page shows all of the reviews left on your Top Rated Local® profile.
Use the Filters option near the top of the Overview to filter reviews by date, rating, or flag. You can also sort the reviews by score or date. Once you're viewing just the reviews you want, its time to take action!
To learn more about the Review Management Tools, see our article on How to Manage and Respond to Reviews.
Request Reviews
You can ask your customers to leave reviews directly on your Top Rated Local® profile. Gathering reviews on your Top Rated Local profile can help increase your Rating Score and boost your credibility in the eyes of both search engines and potential customers. To start requesting reviews, navigate to the Request Reviews tab.
You can use the Review Request Templates to generate a template that prompts your customers to leave a review, which you can send to customers via an email or text message. Additionally, you can copy the unique Review Request URL at the top of the page to send it to your customers.
Learn more about How to Request Reviews on Your Top Rated Local® Profile.
Widgets
Do you want to show off your Rating Score or reviews on your website? You can download free widgets that you can embed on your website that will point users to your Top Rated Local® profile. These widgets provide an easy opportunity to entice your website visitors to leave you a review. Select the Widgets tab to get started.
You have many options to customize the look, feel, and function of your widget or badge. Learn more about How to Add a Review Widget or Top Rated Local® Badge to Your Website.
Edit Your Business Details
Do you need to update your business information that is listed on your Top Rated Local® profile? You can update those details from your Reputation dashboard.
In the top-right corner of the page, click on the arrow next to Add Location, and select Edit Location from the drop-down menu that appears. This will bring you to a page where you can edit the business details associated with your Top Rated Local® profile.
For more information, see our article that walks through How to Edit Your Business Location Using Top Rated Local®.