When your website is ready to go live, it's time to launch your site on a live domain. This involves a couple of different processes. Follow the directions below:
Part 1. Registrar Setup
A domain name registrar is a company that manages the reservation of Internet domain names. Think of your domain registrar as the company that you purchased your domain name through. The first step in the launch process is to add new DNS records to your registrar. This will point your domain to Websites 360®.


1. Log in to your domain registrar.
2. Once you are logged in, find the DNS Manager for your domain.

Note: If you run into any issues locating the DNS Manager, we recommend you contact your domain registrar's support team, as they will likely be able to help you add the following record as well.


3. In the DNS Manager, change the current record or add a new A Record (be sure to insert only ONE A Record into the DNS Zone File, as multiples will create issues.)

Pro Tip: take screenshot of old DNS records so you can always revert them if there are issues.
| Option | Value |
| --- | --- |
| Record | A |
| Host | @ or yourdomainname.com (Example: websites360.com) |
| Points to | 34.95.85.224 |
| TTL | 600 or 3600 (depending on what your domain registrar allows) |

If your site uses nameservers, remove them or park the domain to the default nameservers.


4. Save your changes.
Important: DNS changes typically take 24 to 48 hours for the change to fully take place. If you have any email setup on the domain, take note of your current MX records in order to not interrupt your email service.
Common support topics on popular registrars are listed below:
Network Solutions: Managing Advanced DNS Records
Enom: Change Host Records - Forward, Redirect or Point Your Domain/Sub-Domain
Part 2: Websites 360® Dashboard Setup
Once the DNS records are correctly pointed to Websites 360®, it's time to update the site itself to use that domain when displaying the site to your users.


1. Log in to your Websites 360® Dashboard via mywebsites360.com.


2. If you are the owner of multiple sites, make sure to select the correct site from the Active Site drop-down menu at the top left corner of the dashboard.



3. Select Settings (gear icon) up at the top right.


4. Select the Domains tab.


5. Select Add Custom Domain.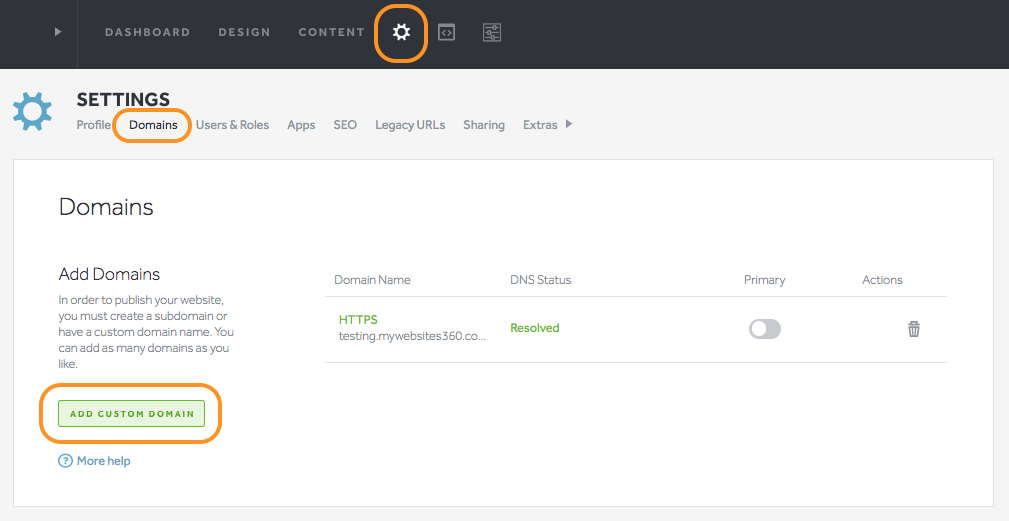 6. Enter the domain or subdomain you just created through your DNS settings and click Save.

Make sure and add a domain for the www. and non www. version of your domain.
An example is shown below: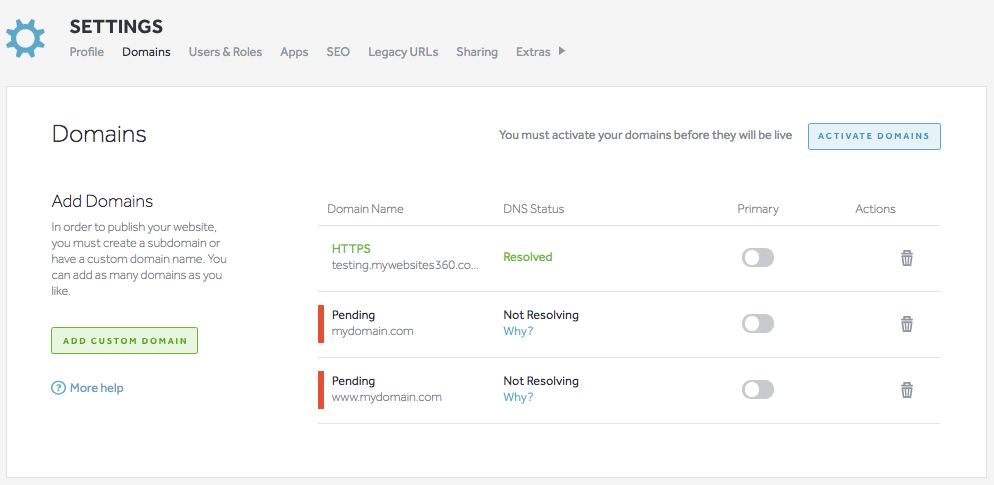 7. Set one as your Primary domain and then click Activate Domains in the top-right corner.


8. You should be all set! If you don't see both domains marked as Resolved, refresh your browser a couple of times. It should just take a moment.


9. Make sure you allow search engines to crawl your site by following this tutorial to submit your website's sitemap to search engines. This is what allows users to find you in their online searches!
Next Steps
Once your domain is connected, you'll want to double-check that your website is able to be indexed by search engines. This will ensure that your website can be visible in search engine results pages after you launch it.