Call Tracking is a dedicated phone number that you can place on your website or ads to track how successful your individual marketing campaigns are. Call Tracking numbers are quick and easy to set up, and will give you the actionable data you need to help make important decisions about your marketing strategies moving forward.
You can track the leads that you receive from your call tracking numbers on your Intelligence Overview.
How to set up/navigate to Call Tracking numbers:
1. To access your Call Tracking numbers, click on your profile icon in the top-right corner of the global navigation. In the dropdown menu, select Settings.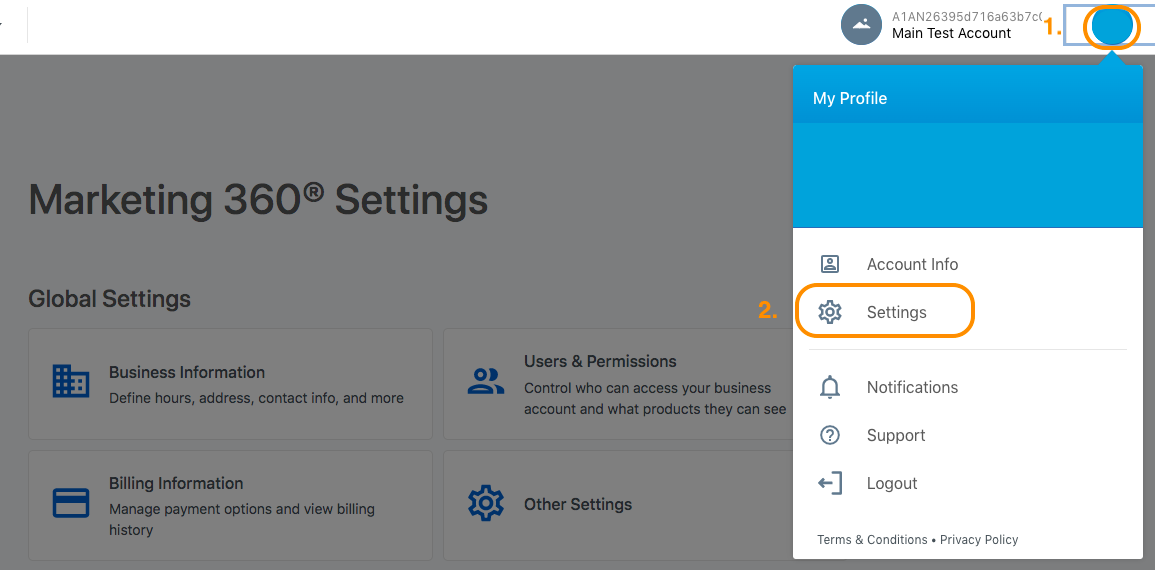 2. Scroll down to the bottom of the page under Intelligence Settings, click on Call Tracking.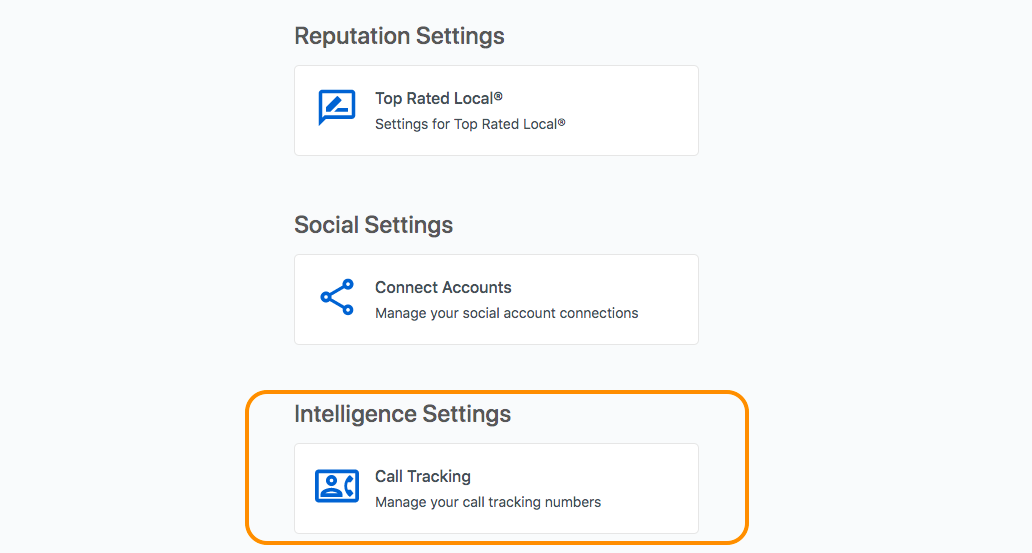 This page lists all of your active Call Tracking numbers as well as your list of email notifications.
3. To add a new Call Tracking number, select Add tracking number.

Add a new Call Tracking number:
1. Select the Ring-to number. This is the phone number that calls will be forwarded to (i.e. your main business phone number).
2. Select or transfer a tracking number. This is where you will select the phone number that will be displayed for your customers. You can either choose an available number from our list, or you can use another number that you already own.
Choose from available numbers: You can choose a phone number that matches the desired city, state, zip code, or area code that you would like to target. You can also choose a toll-free number if you wish. Select the type of number from the dropdown menu. Next, enter your desired phone number type in the below selection (for example, if you would like your tracking number to appear to be from New York City, select By City & State in the dropdown, then enter New York City in the text box and select New York from the dropdown). You will then see a list of available phone numbers matching your criteria - pick one.
Transfer your own number: If you have a second phone number already that you would like to use, you can enter that here.
3. Configure. This is where you can select the settings you want to be associated with the tracking number.
Name: Name your tracking number. For example, if you are setting up the number to track a pay-per-click ad campaign, you may want to title it something like "PPC Ad".
Program: Select which marketing program this phone number will be used for (Ads, Content, or Other).
Greeting: You can create an automated greeting message that will play for a caller when they call. If left blank, no message will play. Your greeting can be a maximum of 500 characters.
Whisper Message: This is an automated message that plays when the receiver picks up a call - the caller will not hear this message. For example, if you are setting up a tracking number for a digital ad campaign, you can create a whisper message that says "This call is from a digital ad".
Record calls: Check this box if you would like calls to this number to be recorded. If this setting is turned on, callers will hear an automated message informing them that they are being recorded.
Count as a lead: Check this box if you would like any phone call to this number to show up in your CRM as a lead.
Once you have filled out all of the required fields, the Add tracking number button should illuminate. If it's not clickable, go back and double-check all of your selections.
Create/manage Call Tracking notifications:
You can receive an email alert whenever a user calls one of your call tracking numbers. To set these up, navigate to Global Email Notifications and click the Add Notifications button.
You will see a pop-up window that allows you to input the email address where you would like to receive the notifications. To add multiple email addresses, click the +Add Field button to add additional recipients. Click Submit when finished.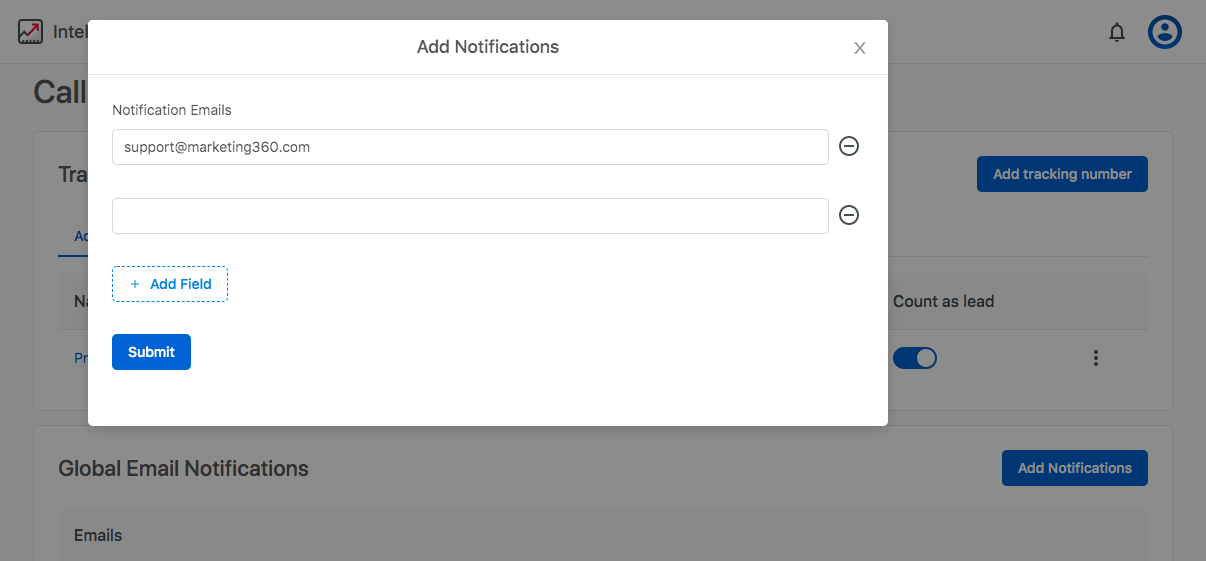 If you would like to stop receiving the email notifications, navigate to Global Email Notifications and click Remove next to the email address that you would like to stop receiving notifications.
Delete a Call Tracking number:
To delete a call tracking number, navigate to the desired number in your list of Active Tracking Numbers. On the right-hand side, click the three vertical dots. Click Delete to remove the number.

If you run into any issues or have any questions, don't hesitate to reach out to our support team at support@marketing360.com.