When setting up your Email Campaign, you will be prompted to enter the email address that your emails will be 'sent from' under the section labeled Who is sending this campaign?
You will enter the suffix of your company or organization's email address (the web address that follows the @ in the email address). You may see orange bars appear under this field. This means that your domain is in the process of being verified.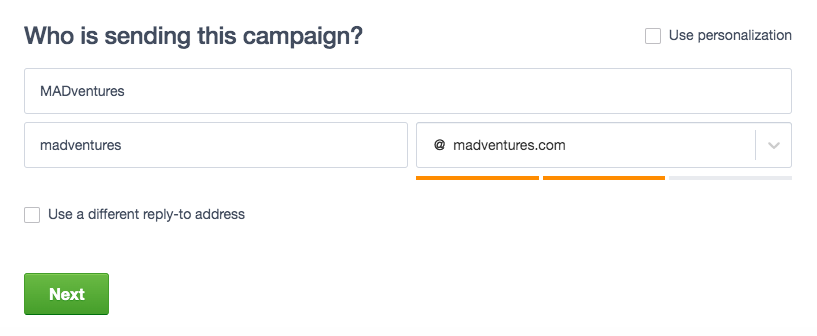 As you fill out your domain in the field, you may see a message about authenticating your domain name.

To ensure that your emails are being sent to all of the users on your Email List, it is recommended that you authenticate your email address domain with DomainKeys Identified Mail (DKIM).
Authenticate Your Email Address Domain with DKIM
DKIM is a way to authorize Email Service Providers (ESPs) to send an email on you or your company's behalf. It allows a sender to take responsibility for their email and is used to help separate legitimate email from spam and phishing campaigns.
To authenticate your domains using DKIM, please send an email to support@marketing360.com. You will need to provide us:
your own domain name
access to your domain's DNS records (such as a username or password)
Once we have this information, we can set up your authentication.
---
Below are some answers to questions we're commonly asked about authentication. If you have a question we haven't addressed, please contact us.

Why is this important?
Sending from a verified/authenticated email address reduces the number of emails that find their way to your customer's spam boxes and/or get flagged as phishing campaigns. These are things that you want to avoid. It also ensures you're following all the best practices for email marketing.

My host doesn't allow me to modify my DNS, what should I do?
Some web and DNS hosts won't let you modify your DNS records yourself, however, many will add authentication records for you. Contact your host to find out if they offer this service.

My web host doesn't support DKIM, do I have to switch to one that does?
Not necessarily. DNS records are usually hosted by the same company that hosts your site, but it doesn't have to be that way. It's possible to keep your webhost and change who provides your DNS records using services like DNS Made Easy, ZoneEdit, and easyDNS.

Will all emails sent through the selected domain be authenticated?
After following the instructions above, only emails sent through Marketing 360® using your chosen domain will be authenticated. Emails sent through other services that use the same domain will not be authenticated. If you opt to send an email from an unauthenticated domain in Marketing 360®, your email will also not be authenticated.