Your CRM Overview is where you can get a quick look at key lead, customer and sales metrics from your CRM. From this overview, you can gather helpful insights and take quick actions to improve your customer relationships and convert more leads into customers.
Here's what you'll find in your CRM Overview.
Note: What you see in your CRM Overview will vary depending on your CRM permissions and user role.
Learn how to customize your CRM Overview!
Lead Snapshot
On the top of your CRM Overview, you'll find lead metrics including your number of Total Leads, Lead Submissions this Week, Total Leads Converted, and Lead Conversion Rate. You'll also see how many new leads you've received today, and how many leads have been converted today.
Your Lead Conversion Rate is determined by the percent of leads you converted to contacts by using the "Add as Contact" call-to-action
Want to start using your Leads Inbox? Click here to learn how.
Overlooked Leads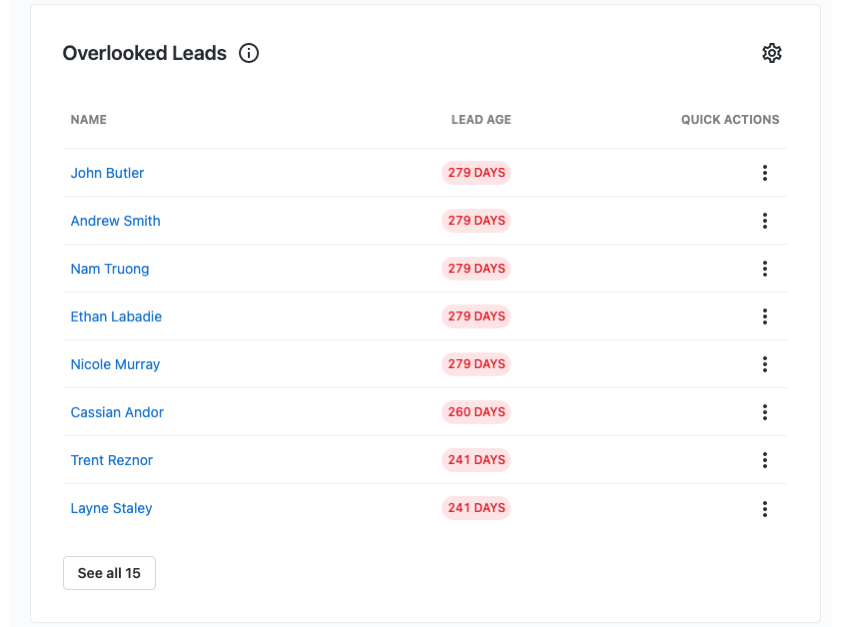 The Overlooks Leads card shows leads from the Leads Inbox that have not yet been added as a contact or archived.
Click on a lead's name to visit their lead profile, or use the overflow menu next to a lead to quickly call, message, add as a contact or archive.
Click the "See all" button on the bottom of this card to see all your overlooked leads.
Tip: Reaching out to leads in a timely manner can help you turn more leads into customers - don't wait!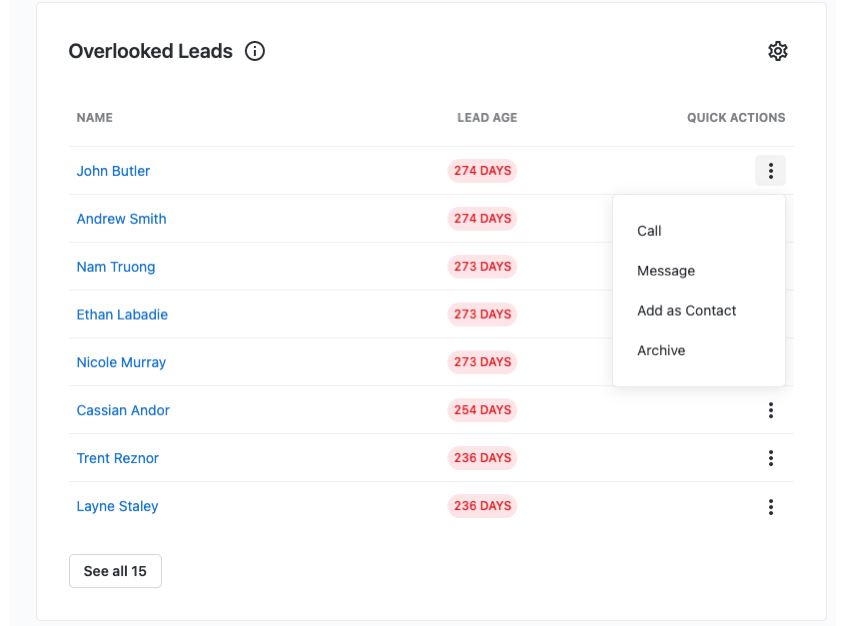 Lead Sources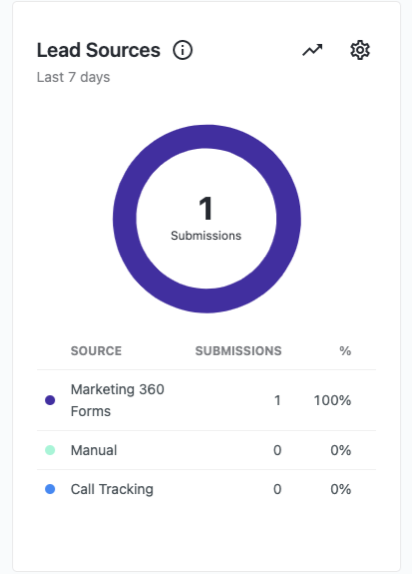 The Lead Sources card shows what lead sources are generating the most leads and displays lead sources for the last 7 days.
Note: Lead Sources will pull directly from the Leads Inbox. Available lead sources include Marketing 360 Forms, Marketing 360 Call Tracking, manual lead submissions, and Google Local Services Ads.
Click on the arrow to view your Lead Sources Report, where you can look at lead sources over a selected date range and see a comprehensive breakdown of all your sources and submissions generated.
Open Tasks
Your Open Tasks card will display past-due tasks. Click on a task name to go to the task details page. Click on the "See all" button to navigate to the CRM Tasks page where you can view all tasks assigned to you.
Deals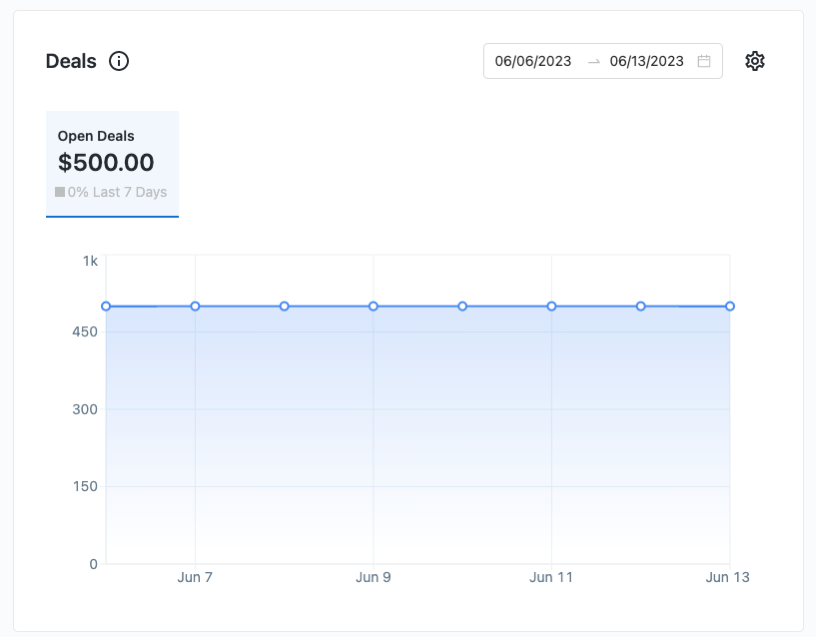 The Deals card displays a graph with the total value of open deals* in your CRM over the past seven days. Click on the date range filter to show deals over a specific date range, and hover over the graph to view how much deal value you have received over the selected time period.
*Open deals are deals that have not yet reached their estimated close date.
Recent Activity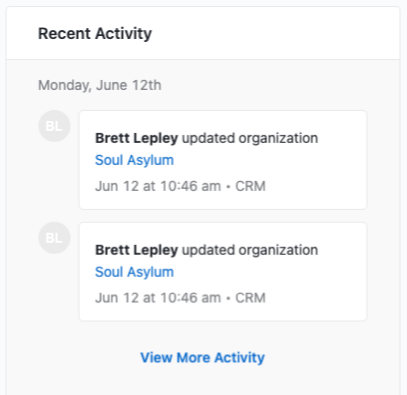 The Recent Activity stream shows recent activity in your CRM over the past 3 days. Click "View More Activity" to load your Recent Activity page, where you can view all Activity on your account over the past 60 days.
Customize Your CRM Overview
Choose what metrics you want to see in your CRM Overview. Blocks with a Gear icon have the ability to be customized so you can choose what metrics you want to see, and where you'd like to see them.
Can highlight the gear icon on one of these: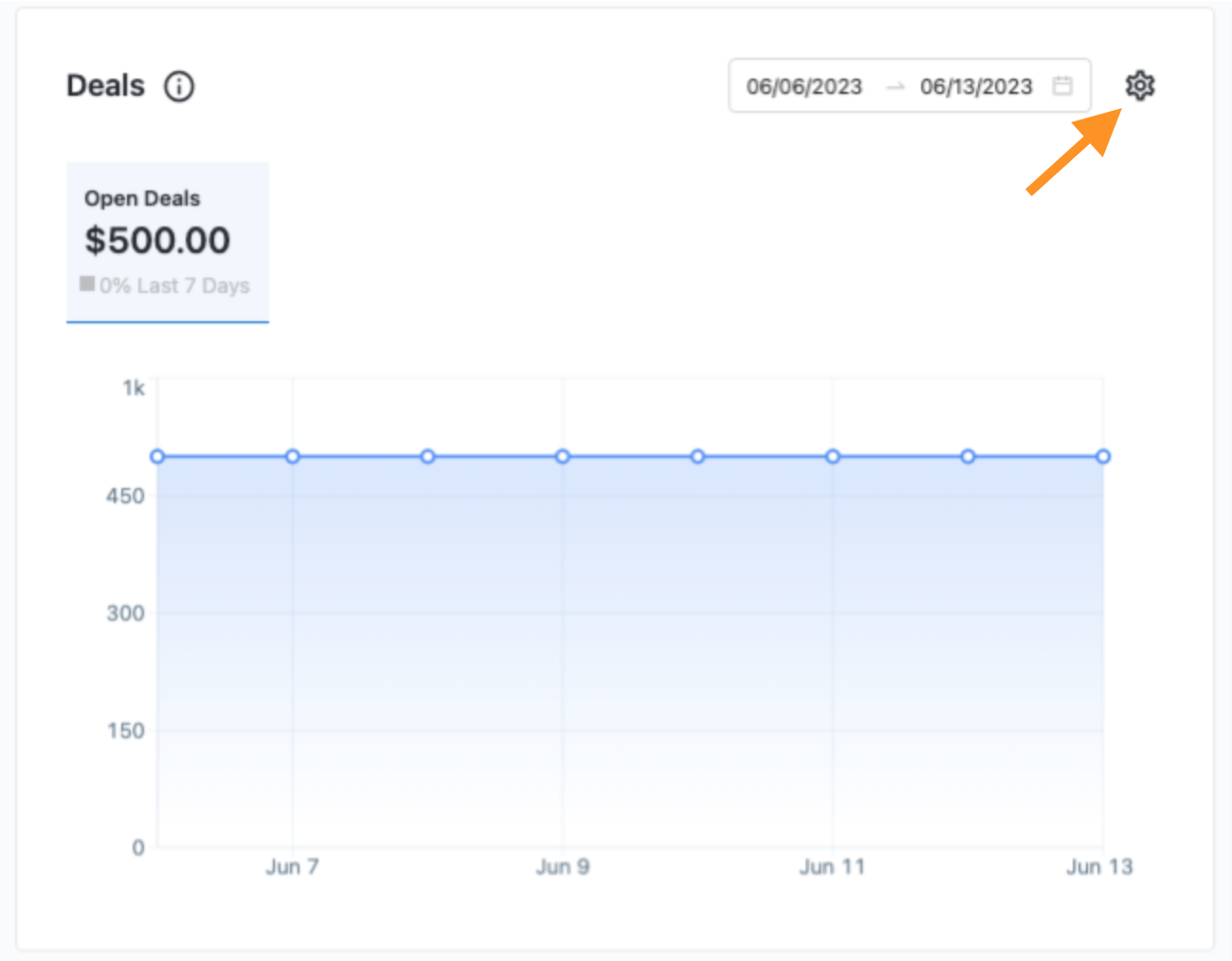 This block will appear when gear icon is clicked: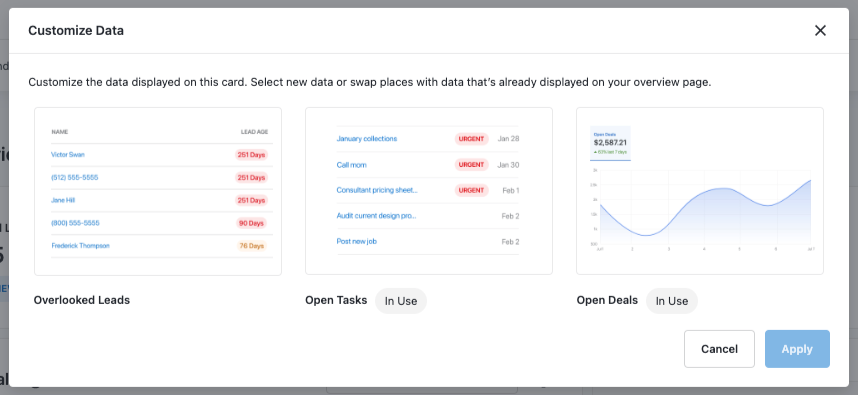 On these blocks, you can choose to see:
Deals
Lead Sources
Overlooked Leads
Open Tasks
Try it out to see what view you like best, and change it at any time!