To sign up for Google Ads as a Locksmith or Garage Door Service, you will need to provide advanced verification. This is Google's policy to help reduce fraud on their platform.
Before you submit the verification application, you will need to gather the following:
Your email (required) and your Ad Specialist's email (optional)

Primary Google ad account CID and/or LSA ad account CID
Note: The Google Verification process can take as quick as 2-4 weeks to complete. In many cases it can take Google closer to 2-3 months to verify the accounts. Timeliness are subject to Google's Verification Team.
Submitting the application
When filling out the Advanced Verification Request form, you will need to fill it out using the following details:
Please select a request type: Select "Apply for Advanced Verification"
Google Ads account: Enter your Primary Ad account CID
Additional Google Ads Customer ID(s): Enter your LSA Ad Account CID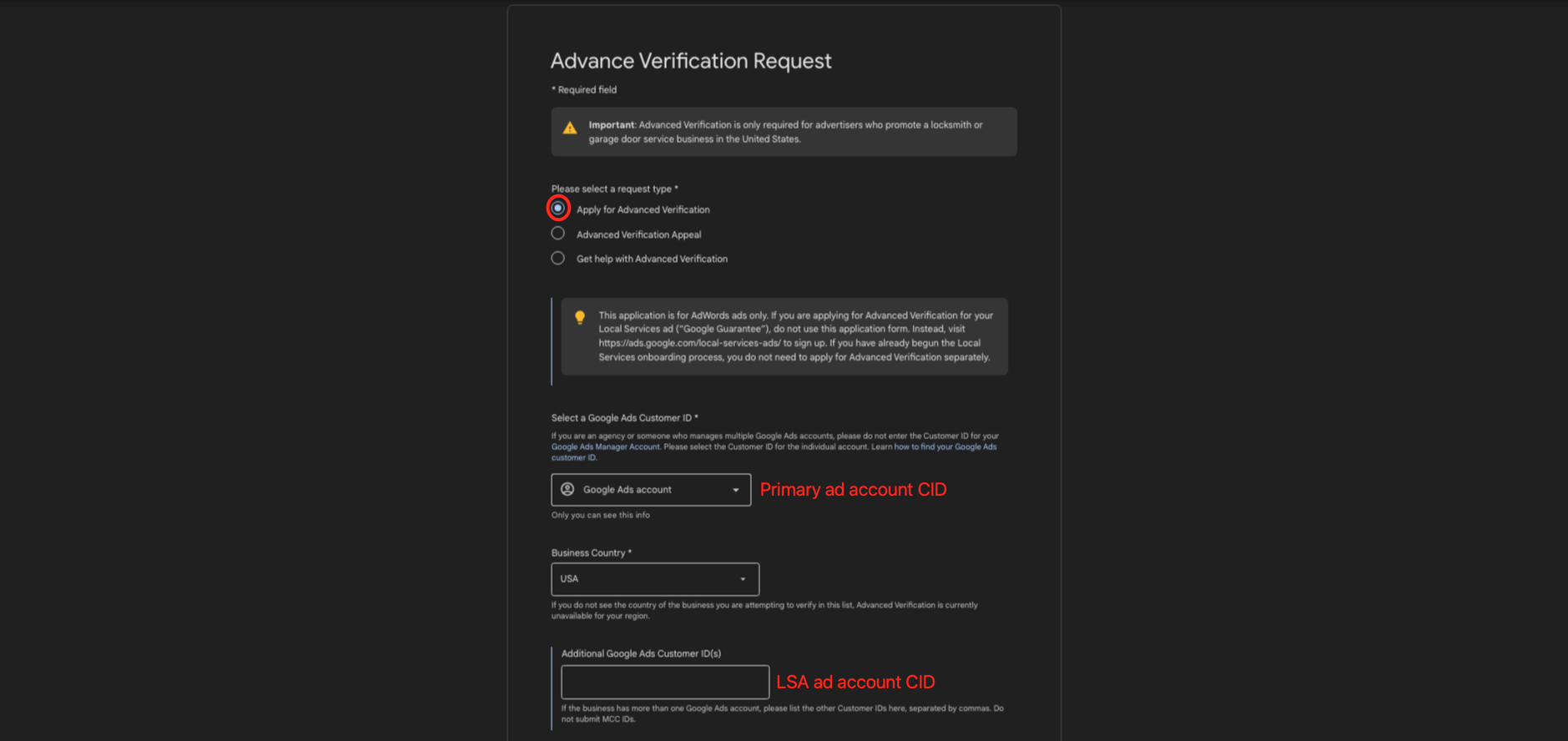 Business details: Answer the prompts as they pertain to your business.
What is your position or role in the business?: Select "Owner"
Email CC: Enter your Ad specialists's email address (optional)
Account Login Email ID: Enter the email address associated with your LSA Account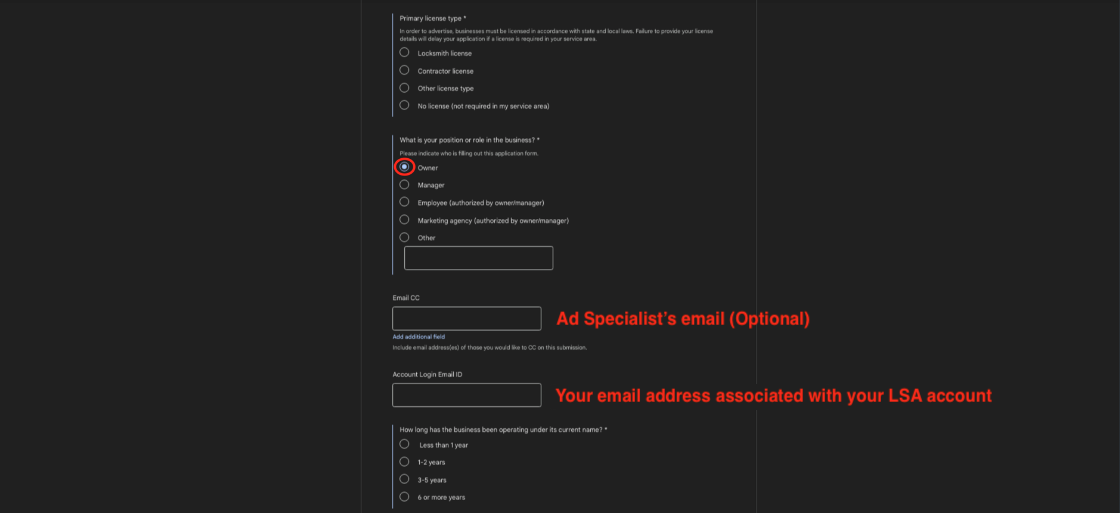 Additional business details and documents: Enter the relevant details about your business and upload the requested documents.

You will need to provide an actual state-issued business name in your state-issued business registration document that you upload.
The "please upload a copy of your fictitious name registration document(s)" field is optional; you will only to upload a DBA if your business name is different than what's recognized by your state.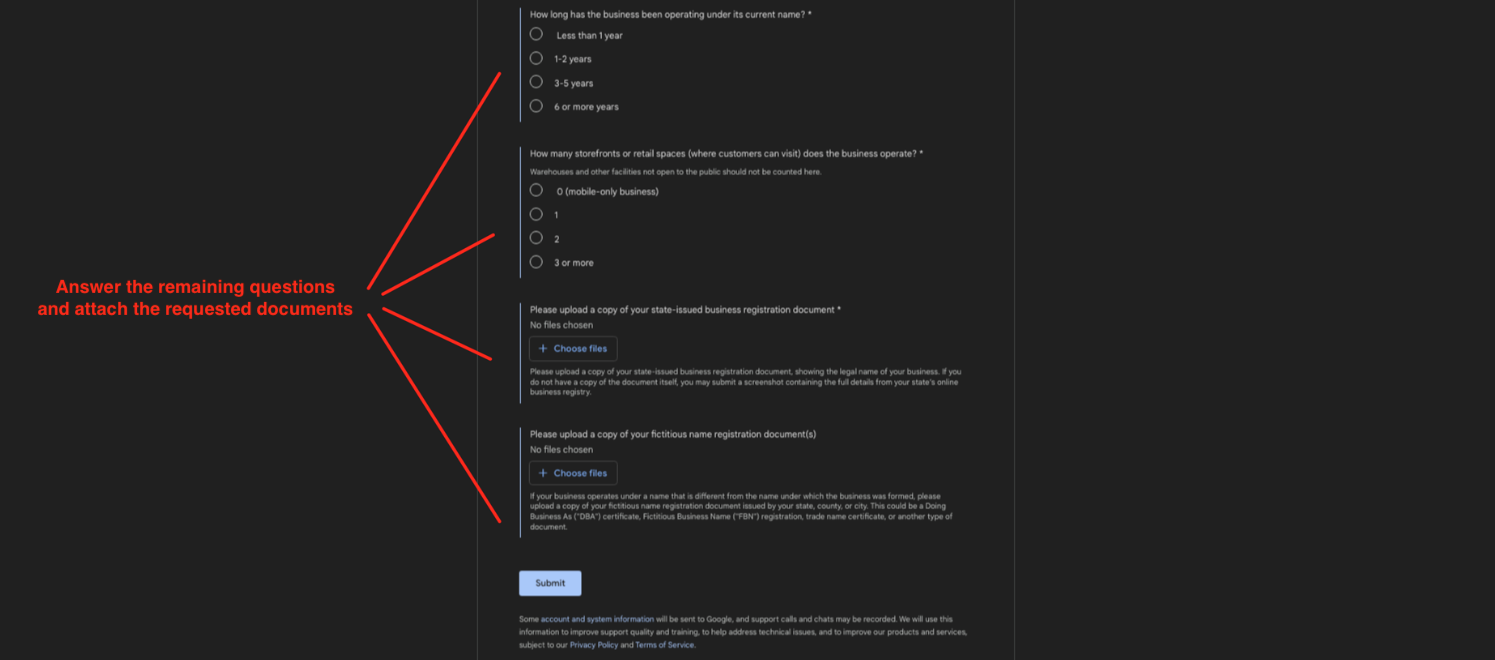 Google's Advanced Verification Policies
Policies that apply to Google Ads and Local Services
Google requires businesses in the Locksmith and Garage Door Services categories to follow the below guidelines:
Local and federal laws and regulations: Businesses must comply with all applicable laws and regulations relevant to the services you provide, including all relevant licensing or other regulatory requirements. Businesses are solely responsible for all compensation, licensing, regulatory fees or dues, insurance, or any other related costs and legal duties required as a service provider.
Age restrictions: You and each of your customers must be 18 years of age or older.
Employment: You cannot claim or imply that you're an employee of Google or its affiliates, or that you otherwise work for Google or its affiliates. Each member of your team must be properly classified and paid according to the applicable employment laws of your jurisdiction.
Google Terms of Service: Learn more
Advanced Verification terms of service: Learn more
Verification Criteria
Google verifies businesses based on the following conditions:
Full, complete, and accurate answers to all verification related questions.
Honest and up-to-date disclosures about government documents such as professional licenses.
Compliance with all Google Ads and Advanced Verification policies.
Confirmation of the licensing status of your business, where applicable.
No evidence that your business is engaged in practices that are fraudulent, deceptive, misleading, or otherwise harmful to consumers.
Google may disqualify a business for any other reason consistent with the verification criteria listed above.
Re-verification and requesting appeals
After your business has been verified, you may be asked to comply with re-verification procedures once every 12 months. You may also be asked to re-verify your business if there are significant changes, such as moving locations or changing websites.
If your application is denied, you'll receive an email notification at the email address in your application and have the opportunity to submit an appeal. You may only submit an appeal once.
Required disclosures
The information you provide to Google must be complete and accurate, including the following:
Accuracy of pricing information: Any prices that are presented to customers must be inclusive of all applicable fees, delivery charges, surcharges, and taxes. For services that vary in price, a range of typical prices must be displayed. This range should represent both the minimum and maximum total costs that customers can expect to pay.
Transparency and availability of promoted offers: Any coupons, discounts, or flat-rate offers promoted in your ads or website must have a corresponding description of what the offer includes and excludes. For example, a claim like "New garage doors installed for $499" would need to be accompanied by details on what type of garage door is included and any limitations on the offer. Offers, services, or products promoted in your ads or website should be currently available.
Accuracy of business identity: The identity you present to customers must be the true and accurate legal name of your business, or a registered fictitious business name. Your business identity must be clearly displayed in places where customers can reasonably expect to see it. For example, your business name should be visible from outside of your storefront if you have one. Google may request documentation to verify your business identity, such as a DBA registration certificate.
Complying with requests related to the verification of your business: Occasionally, Google may have additional questions about your business or documents. Please be sure to respond promptly and accurately to these questions. Google may request documentation to verify your business's address and other details.
Prohibited practices
If you violate Google's policies, your business's verification status may be suspended, which will result in a partial or complete inability to advertise on Google.
Google will notify you by email if this happens. If the violation is fixable, the email will explain the changes you'll need to make before you can resume advertising.
Google prohibits the practices listed below:
Misrepresentation: Enticing users to part with money or information under false or unclear pretenses. Presenting a false or intentionally vague identity, business name, or contact information. Making false claims related to accreditation, organizational membership, insurance, or licensing status.
Unrealistic response times: Claims of rapid response times that are unlikely to always be true and cannot be guaranteed must not be included in text ads or on landing pages.
Pricing information in text ads: Service call fees and minimum or starting prices must not be included in any text ads. Discounts and coupons must not be included in text ads that promote emergency or repair services.
Warranties and guarantees: If your ads or website mention any warranty or guarantee related to your services, the same page must contain a link to the relevant terms, conditions, exclusions, and instructions to file a claim.
Influencing customer reviews: You must not alter, interfere with, or otherwise tamper with customer reviews of your services or the services of your competitors.
Unauthorized use of Google branding and trademarks: You can't use the Google logo or other brand elements without permission. If you want to use any of Google's brand features on your website or other public materials, read Google's brand usage guidelines

.
Advanced Verification FAQs
If you would like to learn more about Google's Advanced Verification, please check out these frequently asked questions about the Advanced Verification process and eligibility.