Printful is a service that helps you easily sell custom print products online with very minimal effort. All it takes is uploading a design and syncing your Ecwid store catalog with Printful. No inventory, no shipping, no upfront costs. All orders are automatically printed and shipped using your store's branding.
Connect Printful to the Shop App
You can sync Printful with your Shop App by installing the Printful app from the App Market. Printful will embed a page into your Shop dashboard where you can manage it.
Install the Printful app by clicking Apps on the left-hand sidebar of your Shop dashboard, then selecting Printful from the App Market.

The Printful app will be installed to your Shop App. You can access it by selecting Catalog > Printful on the left-hand sidebar.

After you create your Printful account and sign in, it will import products from your store. You can sync existing products to be tracked by Printful to fulfill new orders in your store. If there are products you don't wish to fulfill through Printful, you can mark them as ignored.
Add products from the Printful catalog by clicking the Add product button.
Note: Printful won't shop your own created products alongside the products from their catalog.
Choose a product and product category (e.g. Men's Clothing/T-Shirt/Short Sleeve Cotton T-Shirt).

Configure the product's design, colors, and sizes.

Upload graphics and arrange the image on top of the shirt.

Choose the main "mockup" image.

Create a product title and edit the description field.

Choose the markup price and Printful will auto-configure your product prices and calculate the expected profit.

Click Submit to store to list it in your storefront as a regular store catalog product.
Setting up Printful
You can manage how orders are processed in the Printful app settings. On the left-hand sidebar, select Catalog > Printful, then click on Settings > Orders on the top-right corner of the page.

If automatic fulfillment is turned on and all of the products in an order are synced, the order will be fulfilled automatically. If some products aren't synced, the order will be saved as a draft so you can sync products on the fly.
Managing shipping and taxes
Shipping
There are two ways Printful calculates the shipping rates: Flat rates and Live rates
Flat Rates
On the Shipping speeds and pricing page, you can find Printful Flat rate shipping prices for all product types. Flat rates are the default pricing for shipping; the shipping method used depends on the availability and price offered by a carrier. Printful ships using a variety of carriers and methods found in the Shipping methods section.
Live Rates
Printful also has Live shipping rates. They are calculated by the exact weight and the destination of the order and the shipping method/rate is selected by your customer on the checkout page of your store.
You can enable Printful's live shipping rates by checking the box labeled Enable Printful's live shipping rates under Printful > Settings > Shipping and specify which shipping methods you'd like to use for your store.
By default, all shipping methods are selected. Unchecking the box disables that carrier type for live rate orders but note that if you leave Flat Rate enabled, any order where Flat rate is selected as the shipping method can still ship with any of Printful carriers and methods. To totally disable a specific shipping method disable both the Flat rate and the method itself.
Taxes
When you've started selling, don't forget to calculate taxes. If you use drop-shipping services, where your products are stored in a third-party warehouse and shipped out when people order, then you could have a nexus in more than one state — check with a tax professional or look on state government websites to find out. You can create tax rates within your Shop dashboard.
Additional features
Printful lets you customize the Packing Slip, set the Return Address, add Pack-in (flyer, sticker, business card or button.)
Syncing orders between Printful and your store
If you receive a new order that contains a Printful product, then the order must have the Paid payment status and the Awaiting Processing fulfillment status in order to sync with Printful.
If you don't have a card/PayPal connected with your Printful account and your Printful wallet is empty, then orders will not fulfill. Instead, they will end up as Failed.
To add a payment method, go to your navigate to Catalog > Printful on the left-hand sidebar, then select Settings > Billing > Billing Methods. Click Add billing method to set up the preferred billing method.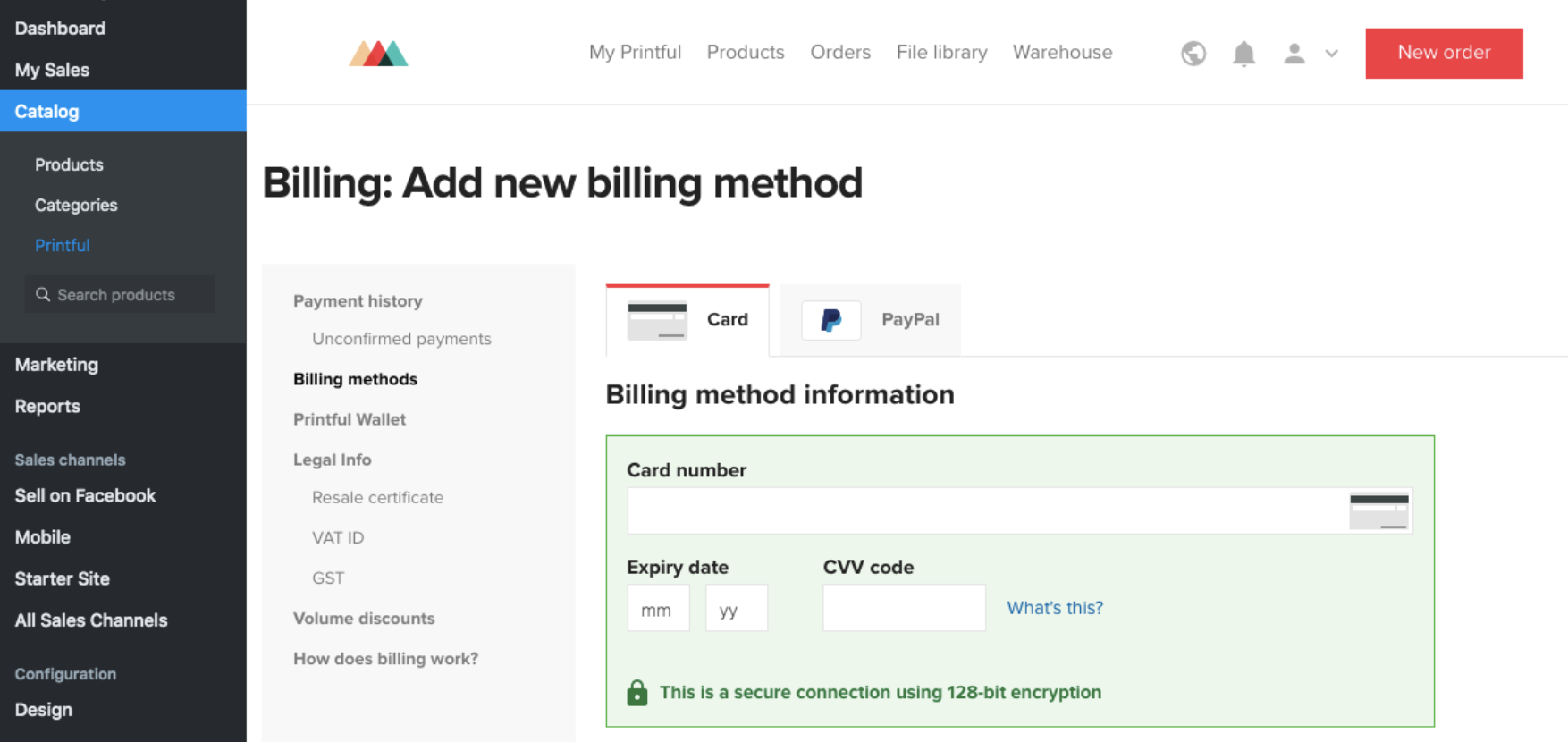 If you do not see the Paid order in your Printful account, then you will need to change the order details by navigating to My Sales > Orders on the left-hand sidebar. This will trigger Printful to check the specific order and sync if needed.
Orders are usually synced every 15 minutes, but it can take up to an hour for the order to come through to Printful.